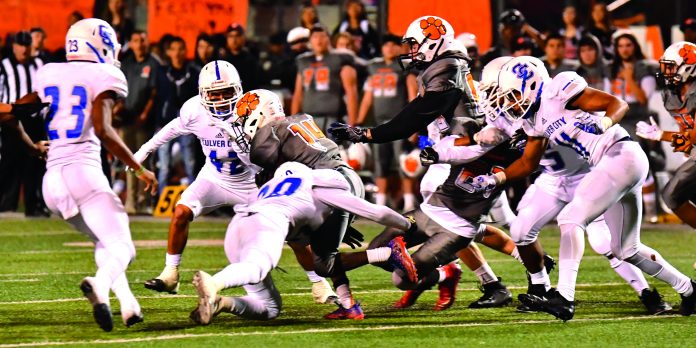 Since Culver City won its first CIF Football championship in 40 years last season, it is logical to assume that the team possessed plenty of talent.  In the early signing period, two senior Centaurs inked scholarship agreements on the first day and one on the third day.  Corner Allen Smith signed with Wyoming and wide receiver/safety Jamal Glaspie signed with Fresno State.  Kevin McGuire, who was an amazing slot receiver and kick and punt returner, signed two days later with the University of Idaho.  However, since the festivities at the school were planned for the first day of the early signing period, Kevin had to wait to be acknowledged until February 6th when two other Culver City football players inked scholarship offers at the beginning of the late signing period.
McGuire was one of the most dynamic players in Culver City football history and performed extremely well in all of Culver's playoff games last season.  Kevin, who is universally loved by all, was voted Offensive Player of the Year in the Ocean League, Most Valuable Player on the team and Offensive Player of the year in CIF Division 7, and in spite of all of this, he remains incredibly humble.
After suffering a debilitating injury as a Junior and being slightly slowed by his stretched ligament in one knee and a partial tear in the other, he came back to get accolades from his coaches and his fellow players.  Kevin's 69 receptions this past season landed him 4th on the all-time Culver City reception list, and his 18 touchdowns shattered the single-season record of 13 held by five former Centaur greats (Jasiri Rodell, Damien White, Antwon Moutra, Alex Jackson, and Charles Ross).  He also broke the Centaur career receiving yards record held by Jasiri Rodell.  His 1,169 reception yards last season placed him 4th on the all-time Culver City single-season receiving yards list.  He also broke the great Michael Bumpus' career reception record, and he broke the all-time career TD record held by Antwon Moutra.  According to the "247 Scouting Service" and confirmed by the University of Idaho, Kevin was the highest rated player that they had signed since 2010.
Dominic Tatum and Kofi Karikari were the two players who signed at the beginning of the later signing period.  Dominic, who was an All-League and All-CIF selection, and had approximately 14 scholarship offers, decided to sign with Utah State, who had just hired Gary Anderson from Oregon State to be their head coach. He had been recruited by Matt Wells, the former head coach at Utah State, who recently took a job at Texas Tech.  Wells immediately offered Tatum a trip to Tech because they were unsure if their other commit was going to change his mind.  Tatum said that he enjoyed the trip but that the other player did accept the scholarship offer, so there was no place for him at Texas Tech.  Tatum de-committed from Nevada prior to the early signing period and that opened him up to potential offers from larger schools including USC, Washington, and others.  Interestingly, his father played at Utah State but said he would be fine with whatever school Dominic decided to choose.
Tatum, who had lived in Inglewood, initially went out to the Valley to play at Alemany High for three years, but they had had three coaching changes during that time and the drive out to the Valley was difficult. His father knew coach Wright and Dominic knew that Culver was a dynamic team having seen them play, and he felt he could add an extra dimension to the defense.  When asked why he decided to go to Logan, Utah he said, "it felt like home and family and love from the coaching staff and players."
He went on to say that they wanted him to play right away, and he and his dad planned to have him graduate at the semester break in December, so he could play in spring ball making Dominic the first player in Culver City football history to successfully do this.  He said that going to SixPax Gym helped him to put on weight and gain muscle mass.  He also said that when he went to Logan, it reminded him of Culver City because "Culver City is a family and a bond that lasts a lifetime."
This past season Culver City's offensive line was one of the most physical in recent Culver City football history. Kofi Karikari dominated from his right tackle position with his outstanding line play and his physicality.  He was a former basketball player who Head Coach Wright had been trying to get to play on the football team since he was a freshman, and he finally came out as a Junior.  Kofi was selected First Team All-Ocean League and All-CIF for his play this past season.
He attended the HBCU combine at Lynwood High School this past spring and was spotted by the offensive line coach for Virginia Union, Mike Morita.  When Coach Goodyear reached out to Morita about other players, Morita inquired about Kofi and after some conversation, he decided to go ahead and offer him a scholarship.  According to the Virginia Union website and to their head coach, he felt that because of Kofi's outstanding ability, he would have a good chance to play immediately because the team graduated several linemen.  Because of financial considerations, they could not offer him a trip to the campus, but Kofi and his family did a virtual tour and also spoke to a few players and decided to accept the scholarship.  Kofi Sr. was very happy that his son was offered a scholarship and that he was going to have an adventure in another part of the country.