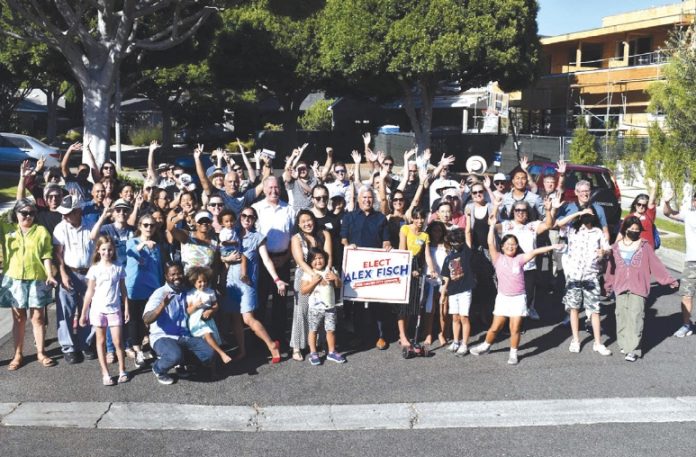 By Michelle Zhou, CCHS Student
Vote 16 Member
On Aug. 14, Council Member Alex Fisch officially kicked off his re-election campaign for City Council in Culver City through a neighborhood launch party. The event included many guest speakers, such as Isaac Bryan, California State representative, and Paula Amezola, Culver City School Board Member.
With refreshing lemonades and fun snacks, such as Swedish Fish, that matched Fisch's "Go-Fisch" slogan, the kick-off was a welcoming atmosphere to everyone, including local politicians and curious kids. The three-hour event first started with a series of guest speakers who just couldn't stop beaming about Fisch's character and history.
"It takes more than one person to make change," said Isaac Bryan. "Alex knows how to bring together the community."
Another speaker said, "We are making history…we need brave, bold, unafraid, and honest leadership. We need someone like Alex who has the fortitude. He is the person for this moment."
Paula Amezola then recalled a moment from a few months ago:
"I was so scared because there was this construction zone, and high school students were crossing the street so recklessly," said Amezola. "But, I called Alex at literally 8 a.m., and by the end of the school day, there was a crosswalk. That is efficiency."
John Erikkson, a senior director at Planned Parenthood, then highlighted Fisch's success in decreasing homelessness within Culver City, stating that "we can't be shuffling people from one side of the 405 [highway] to the other." He then added, "No one is disposable."
The rest of the event was centered around Fisch's future plans to improve Culver City. Within it, he stated that he saw that future improvements could be tackled in three "buckets": (1) Housing and Homelessness; (2) Public Space/Public Safety/ Public Health; (3) Transportation and the Environment.
Following Fisch's successful actions regarding decreasing homelessness, such as securing $26.6 million in Project Homekey Funds and converting two motels into 76 permanent supportive and transitional homes, he has equally ambitious plans for the future. If elected to another term, he will aim to win the state's Pro-Housing designation, which is awarded to cities that have great housing options, implement more full-service permanent supportive housing, gives subsidized affordable housing builders an advantage over market-rate developers, make it easier for property owners in R1 zones to split or build their lots into duplexes or casitas, and form a staff task force to ensure that all departments are accelerating affordable housing.
Fisch also has an impressive history in public management, such as ending vehicular stops and frisks, creating the Equity and Human Relations Advisory Committee, and refreshing the city's parks and playgrounds. With another term, he would aim to implement programs that would reduce and prevent gun violence and the proliferation of guns, fund a new unarmed and care-based public safety department that would reduce the consumption of police time and resources, and increase investment in parks, public buildings, and school programs.
Similarly, Fisch has had a tremendous impact on Culver City's transportation and environment, such as requiring the phase-out and termination of all oil drilling within the city's limits, providing free TAP cards to all Culver City Unified School District (CCUSD) students K-12, and winning millions of dollars in grants to electrify the city's buses and other vehicles. With another term, he hopes to further his impact by enhancing the Neighborhood Transportation Management Program to reduce cut-through car traffic, implementing more management strategies to ease rush hour traffic, and collaborating with the Metro to expand the region's public transportation options.
The kick-off party was a great opportunity for the Culver City community to see what type of council member Fisch would be if re-elected. He also claims that he isn't put down by any opposition.
As Fisch puts it, "How are you going to change 50 years of status quo without offending some people?"
As Fisch's re-election campaign continues, all the City can do now is patiently wait for the Nov. 8 election. Hopefully, with whichever outcome, the City will be well protected.