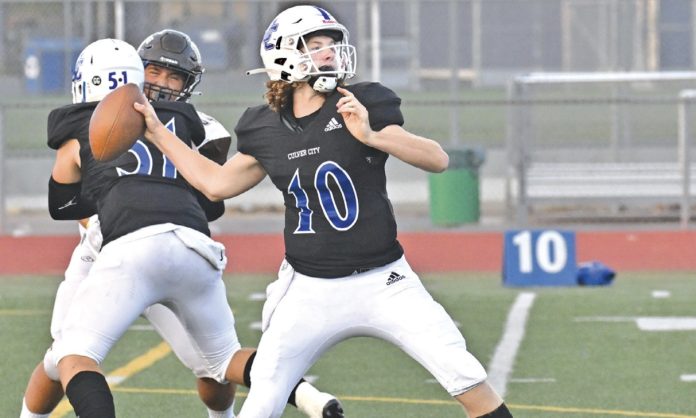 If the first game of the season is any indication, the young and inexperienced Culver City football may surprise a lot of people. Their 35-13 win over West Torrance last Friday at Culver City showed that the Centaurs might be ready to battle a school like Loyola that has a long history of athletic excellence. Loyola, the All-Boys school near downtown Los Angeles lost their first game of the season at home 34-7 to Damien so they will be looking to redeem themselves. The Centaurs will face the Cubs Friday at Culver City inside the Jerry Chabola Stadium at 7 p.m.
Standing in Loyola's way is a Culver City team that started slow against West Torrance, but found their grove in the second half. Against Loyola the Centaurs will need to start fast and not fall behind like they did last year.
Last season they fell behind 19-0 during the first half. Although they came back and scored 14 points against the Cubs in the first half, Loyola had already grabbed the momentum going into half-time. The final scored was 62-21, which was one of the worst losses in Culver City football history.
"The first thing is we can't turn the ball over like we did last year," said Culver City head coach Jahmal Wright after their win over West Torrance. "We had a lot of fumbles and we committed six turnovers that really put us in a hole. We have to do a better job of starting faster and we need to deliver the first blow and we need to protect the football."
How can they slow down Loyola's offense? "We are going to have to match their physi- cality," said Wright. "They are a great, well coached team. They play a physical brand of football. They are used to play- ing hard nose teams because they are in a real tough league. It's a brand of football that we are not accustomed to, but we are capable of playing that style of football."

The Cubs will enter the game with quarterbacks that are not be afraid to throw the ball but last year's team gained most of their yards on the ground so the Centaurs defense will have to be ready for a ground and air football attack. The last line of defense for Culver City is their defensive backfield. "We just need to execute our game plan," said Wright. "We have a very talented secondary and they are a very athletic group. They just need to play smart, and I think everything else will take care of itself."
Longtime defensive coach, Cornell Myles is excited to play a traditional high caliber program like Loyola. "We are going to approach the game the same way we approached last weeks' game, but we will have to raise our level of intensity because will be playing a team that has great history. If we prepare ourselves correctly, we should be fine. Our young kids don't really know who Loyola is and what it means to play a school with such great athletic tradition, but we will be playing at home so hopefully that will give us an edge."
Culver City's advantage may come from their quar- terback and receivers. Last week against West Torrance Centaur's new quarterback, Sammy Silvia completed 16 out of 25 passes for 309 yards and five touchdowns. He threw two in the first half and three in the second. He threw touch- down passes to four different receivers.
Two of his touchdowns went to Myles Singleton who caught seven passes for 154 yards. Mateo Torres, Justin Oum and Braylon Singleton, Myles's brother also caught touchdown passes. "A lot of plays were open," said Silvia after the game. "The coaches called some really good plays, and the team was able to do a good job executing the plays. The coaching staff here is really helping me to try to play at a high level. I really like the coaches. It's a great fit for me."
Wright was pleased with the junior quarterback's perfor- mance against West Torrance. "It was a good first game performance. He did not turn the ball over and he threw five touchdown passes. He was very efficient. I am proud of him."
Silvia has eight receivers that are capable of making big plays and one of them is Torres. After the game Torres was still excited about the victory. "It was awesome. We have been working really hard during the off season. The receivers have really good chemistry with the quarterbacks. It feels amazing. It's a brotherhood. At the end of the day, we play for each other. Everything we do is for each other."
Torres is looking forward to playing Loyola. "It's going to be a tough game, but I know our coaching staff can put together a good game plan and we can put up a good fight and hopefully win the game."
There is a lot a talk about Culver City's offense, but their defensive play may be the key to beating Loyola. Defensive Coordinator Derrick Huezo talked about the defense after the West Torrance game. "I thought we did a great job. A lot of these guys are new. I am pleased with how they played tonight. We are pretty athletic and if we continue to play fast and physical, we will be okay."
Wright was also happy with the win last week. "I thought we were the better team so once we settled in, we had a good game plan. We had no returning starters at quarterback, running back and wide receiver so it's a brand new group and it was the first game. We got better as the game went on. We are super young, but we have a lot of talent. The best is yet to come."