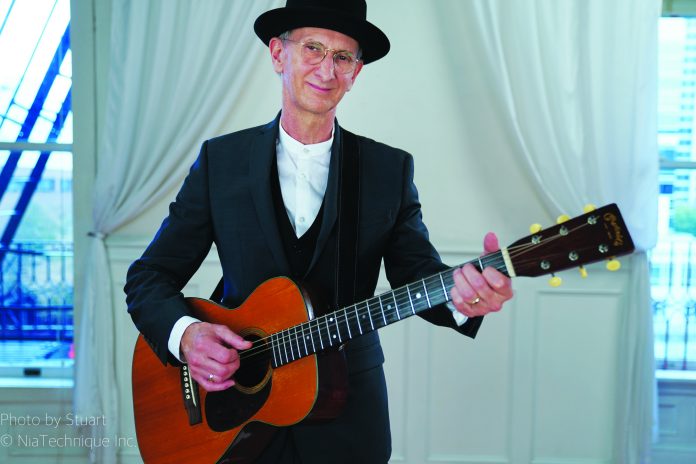 By Gary Kohatsu and Gary Mandell
Terry Robb is hailed as one of the finest acoustic guitarists on the international scene and a virtuoso of acoustic blues guitar. His signature fingerpicking style landed him in the Oregon Music Hall of Fame and earned him international acclaim from worldwide audiences, esteemed music critics and his distinguished peers.
In his latest album "Confessin My Dues", Robb draws on his deep knowledge of Delta blues, ragtime, and swing in 13 original compositions ranging from blistering instrumental blues and stunning ragtime fingerpicking to soulful singing backed by a powerhouse rhythm section. From country blues to Coltrane, ragtime to Hendrix, Americana to American Primitivism,: Confessin' My Dues" should captivate listeners with its melodic and rhythmic invention and musical virtuosity.
"Simply breathtaking perfection," Living Blues magazine said in an article. "Terry Robb is one of our finest acoustic guitarists today. He's not just technically sublime; he plays with unrestrained passion you will feel deep down inside."
Robb will appear Saturday, Oct. 26 at Boulevard Music, 4316 Sepulveda Blvd., Culver City. He will take the stage from 8 to 10 p.m. Tickets are $17.50. Call 310-398-2583.
Robb, 63 and a native of Vancouver, British Columbia before moving to the U.S. as a young boy, shared some insight into his music with the Culver City News.
"I started playing the guitar when I was eight years old," Robb said. "My Uncle was a professional guitarist (who worked with the Lawrence Welk orchestra) and gave me one for my birthday. I started to write songs when I was in high school. After I graduated from College I went on the road with Ramblin' Rex who was close with Frank Zappa. later I worked with John Fahey and produced some albums for him."
While Robb is a versatile guitarist on both acoustic and electric, and this range is reflected in his early music loves.
"I am influenced by the old blues, ragtime, and country players," he said. "I also listened to a lot of jazz, 'classical and world music. It all somehow gets mixed into my music.
"I play all kinds of songs, but it has a real blues sound to it because the technique I learned came from blues playing," he emphasized.
Robb enjoys playing before a live audience and appreciates every show: "Any time I'm working, it's a good gig."
He has 15 solo recordings and said his new release is "Confessin' My Dues."
The guitarist extraordinaire said he is no stranger to Culver City, having performed at Boulevard Music before.
"With a Trio of guitarists called The Acoustic Guitar Summit: me, Mark Hanson and Doug Smith. It was great fun."
On this go-around at Boulevard Music, Robb will be on his own.
"I will be playing a solo show featuring songs from the new cd," he said. "There will be fingerstyle guitar, slide guitar and vocals."
He will close out 2019 and delve into 2020 by "touring behind the new cd throughout next year."
Robb will also lead a guitar workshop at Boulevard Music on Sunday, Oct. 27.