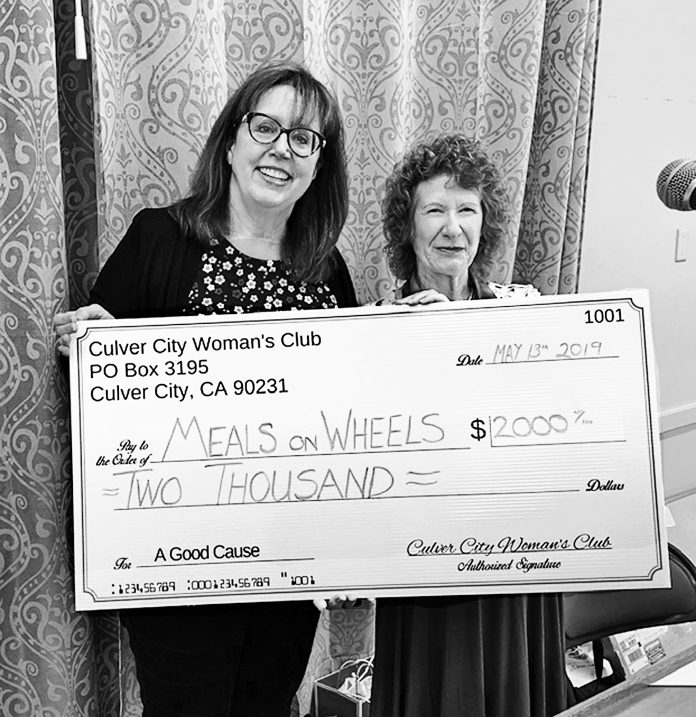 Culver Palms Meals on Wheels will host its 45th Annual Munch and Mingle Fundraiser Tuesday, Oct. 29 from 5 p.m. to 7 p.m. at Casa Sanchez Restaurant.
Admission is $45 and includes free appetizers such as shrimp and beverages.
In honor of their 45th year, the first 45 attendees will receive a Promo Shop lunch box inside of which will be a water bottle and a note thanking them for their support.
All other attendees will be eligible for various door prizes such as a Kindle electronic reader, golf accessories, Panera gift cards, and a Coach gift set which includes a wallet, credit card holder, and keychain.
Culver Palms Meals on Wheels Executive Director Pam Frieden said that various Culver City officials have been invited including Culver City Fire Chief Dave White, former Culver City Mayor Jeff Cooper, and Culver City Police Chief Scott Bixby.
Sponsors of this year's event are Promo Shop and the Hilton and Hyland luxury real estate firm.
According to Frieden, last year's event raised approximately $2,500. She's hoping this year's event will pull in at least that much, if not more, so the organization can continue serving meals to the city's needy seniors.
"The amount of people who cannot afford meals has increased so much," Frieden said.
Of the seniors they serve, 74 percent are over the age of 75 and of that group, 39 percent are over the age of 85.
One thing that Frieden said distinguishes Meals on Wheels from a place like the Culver City Senior Center is that Meals on Wheels caters to those with specific dietary needs.
"We have diet appropriate meals for those who are diabetic or are on blood thinners or have high blood pressure," Frieden said.
In addition to providing meals for seniors, Frieden said that her organization also likes to check in on its seniors, especially if they haven't been heard from in a while or don't answer the phone.
"Saving lives is a big thing to us," Frieden said. "I called a senior one day and he didn't pick up. I called the family who lived close by and they went over to check on him and found he had fallen to the floor and could not move."
Culver Palms Meals on Wheels covers the area from Pico Boulevard to LAX and from La Cienega all the way to the coast which includes Venice, Mar Vista, Playa Del Rey, and Westchester. Last month, the Culver Palms Meals on Wheels served 2,400 meals to its seniors.
To purchase tickets to the Munch and Mingle Fundraiser or for more information on Culver Palms Meals on Wheels, please visit www.mealsonwheelsculverpalms.org or call (310) 559-06