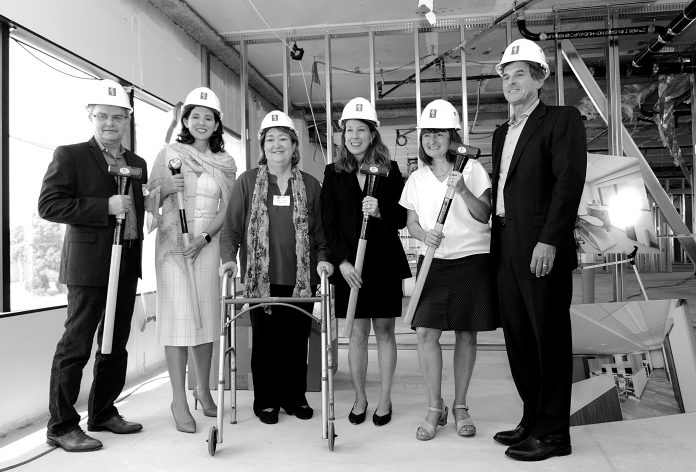 Westside Family Health Care signs 20-year lease; plans to open facility in early 2020
Once the longstanding home of the LA Weekly newspaper, the property at 3861 Sepulveda Blvd., Culver City has a new occupant in the Westside Family Health Center. The non-profit WFHC has entered into a 20-year lease "that will greatly expand its services and the number of patients it treats," Westside Family officials said.
WFHC last week made the announcement during a one-hour ground-breaking ceremony at the Sepulveda location.
The three-story building of the former LA Weekly will be reconfigured for its business tenants.
"This will include 12,00 square feet of clinic space, 12,000 square feet of administrative space and more than 80 parking spaces," said Debra A. Farmer, president and CEO of WFHC.
When completed, the facility will include 24 exam rooms, four dental operatories, two vision rooms, and seven consultation rooms.
Plans are to begin opening doors to patients in early 2020.
Sheri Bonstelle, a partner at Jeffer Mangels Butler & Mitchell LLP (JMBM) was instrumental in securing the new home for the health center. Bonstelle began providing pro bono legal services and assisting WFHC in the search for a new site in 2018, WFHC officials said.
"Sheri's former work as an architect and her extensive experience in all aspects of the legal and approval process for a real estate deal of this magnitude made her the perfect person to have helping us," Farmer said.  "Jeffer Mangels Butler & Mitchell's support will make a huge difference for people throughout Los Angeles."
The new Culver City home is an ideal location due to its availability, its ample acreage to expand, and especially its convenient accessibility on Sepulveda Boulevard.
"The location is more centrally located to the communities we serve with easier access via the 405 freeway, major thoroughfares, and is just a short walk from three major bus lines, and the Expo metro station," according to the health center's website.
As with new undertakings, the move and expansion plans need capital to achieve its goals.
"We're launching a $15-million fundraising campaign called 'Healthy Futures for All – 2024' to enable Westside Family Health Center to expand our high-quality health care to the community we serve," officials said. "The campaign comprises both the capital costs needed to relocate and the core operating costs for the first five years."
Services added will cover vision, dental, and mental and behavioral health care.
"We'll be a health center that treats each and every one of our patients like family," officials said through its website.
Once expansion is completed and new services are added, WFHC officials said it will be capable of doubling the number of patients served — from more than 12,000 to more than 24,000.
WFHC officials said the new facility will have four "pods." Each of the four pods will contain six, light-filled exam rooms and a central space for doctors, technicians and dedicated medical assistants to share information.
These pods will ensure greater patient care and the collaborative sharing of information.
In addition, there will be four dental operatories and two vision rooms. The second floor will house the company's administrative space, a team member lounge, and a community conference room to serve both its needs and those of the community.
With a goal of reaching $15,000,000, presently $2,000,000 has been raised, the WFHC site indicates. Half of that, $1,000,000 has been pledged by Darlene and Alan Lasher.
WFHC began in 1974, as a "small group of dedicated feminists and mid-level clinicians who came together to start the Woman's Health Care Project, as part of a larger social change movement in Santa Monica," as noted on the group's website. It was designated a nonprofit 501(c) in 1976 and then renamed the Westside Women's Health Center in 1987. A pediatric program was added in 1992 and the family practice program established in 1999.
The West Los Angeles satellite site was opened in 2015.