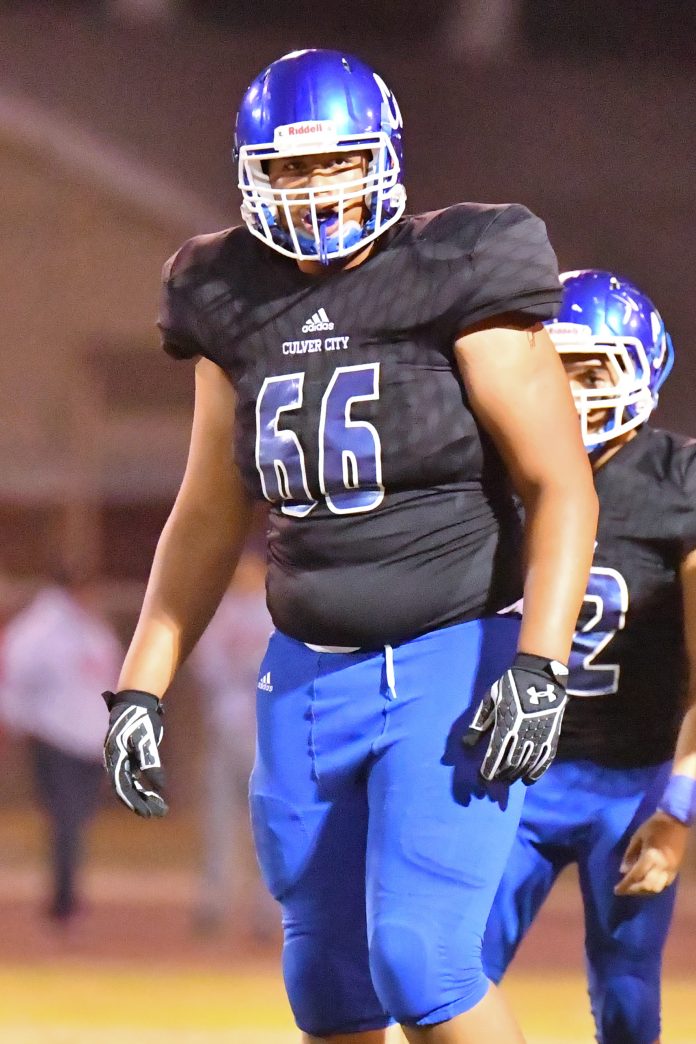 Like former Los Angeles Clipper announcer Ralph Lawler use to say, "Buckle your seat belts," and get ready for the ride.  Fall sports at Culver City High School officially kicks off Friday when the No. 2 ranked Culver City football team travels to West Torrance for a 7 p.m. game.
Although four other fall sports are starting their season at the end of August, football is the biggest sport on every high school campus in America.  Girls' tennis, boys' water polo, girls' volleyball and boys' and girls' cross country are also very competitive and play at a championship level in the fall. Those sports are all essential, but there is no doubt that football is the heart and soul of high school sports.
Culver City's varsity football head coach, Jahmal Wright is starting his 11th year in the driver's seat, and he is eager to get started after a long summer. "This summer we accomplished everything we wanted to as far as evaluating players and getting the team ready," said Wright after a practice last Monday.
The first game of the season is always a mixed bag of emotions for the players, coaches, and fans. "It's the first game so I expect us to have a lot of energy and enthusiasm," said Wright. "I expect us to go out there and execute and be excited about playing against another opponent. We have been going against ourselves for the month of August so we are excited to face somebody else."
The 2019 football team is the defending Division VII CIF champion. Because of their successful season last year, they were moved to Division V this year, but the expectations are still the same: win a league and CIF championship.  "Every team is different just like every player is different," said Wright. "Each team has its' own personality, and there are different challenges with every team."
Wright continued, saying, "This team is definitely unique. One of our concerns with this team is making sure we have enough depth in certain areas and we have a little bit of inexperience in some areas. Our defense is a work in progress but I think the defense will improve as the season goes along."
The offense hopes to be as good are better than last year when they had one of the top offenses in Southern California led by junior quarterback Zevi Eckhaus who threw for 50 touchdowns. "Our offense has looked good in practice but we will see how we look when the game starts," said Wright. "Our quarterback is looking good and we have some talented weapons for him to throw the ball to."
Special teams, kickers and kick returners are always a very important part of a football team and the special teams this year should be special. "Our kicker is returning and we have some good athletes returning kicks so we are hoping that the special teams we be solid this year," said Wright
The team has a tough schedule this year that includes their first three games on the road. "We are just going to take it one game at a time," said Wright. "Right now we are concentrating on West Torrance because they are a formidable opponent, and this is the 10th year that we will be playing them in the first game of the season.  They know us well and we know them well."
Wright was a former Culver City player and assistant coach before becoming head coach, but he is still having fun every step of the way. "I am excited," said Wright. "Every year is different and every year presents a new challenge, but I am optimistic and excited. I like our chances."
The girls' tennis team will play a match at home today at 2:30 p.m. against Louisville and they travel to North Torrance on September 3 for a 2:30 p.m. match. Boys' water polo will face Cleveland from the valley today at Vets Park at 3 p.m. and they battle Birmingham at 3 p.m. at Vets Park on September 3.