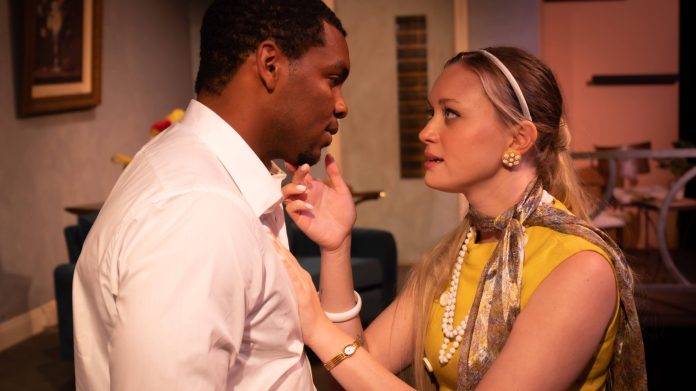 Interracial marriage was illegal in 17 Southern states until June 12, 1967, just six months before the opening of 'Guess Who's Coming To Dinner', a romantic comedy-drama film produced and directed by Stanley Kramer and written by William Rose, whose story won the Oscar for Original Screen Play in 1968. And it still resonates today thanks to the Los Angeles premiere of the play, written by Todd Kreidler based on Rose's screenplay, directed at the Ruskin Group Theatre with loving, emotional depth by Lita Gaithers Owens on a rainbow-hued split-level set designed by John Iacovelli.
In this top-notch production, a progressive white couple's proud liberal sensibilities are put to the test when their daughter Joanna (Mary Pumper) brings her black fiancé John (Vincent Washington) home to meet them. Blindsided by their daughter's whirlwind romance and fearful for her future, Matt and Christina Drayton (brilliantly cast Brad Greenquist and Lee Garlington) quickly come to realize the difference between supporting a mixed-race couple in your newspaper and welcoming one into your family might tear your own marriage apart. But when Act 2 rolls around, they're surprised to find they aren't the only ones with concerns about the match when John's parents arrive for dinner!
Soon a multi-family clash of racial and generational difference sweeps across the Draytons' idyllic San Francisco residence as well as their lives. Even their black maid, played to the comedic hilt by Vickilyn Reynolds, can't believe John's motivation for the marriage is really based on his love for Joanna and lets him know her mind with abundant sass. The production feels fresh thanks to the incredible character portrayals by all the actors and dedicated technical staff. And what a touch of magic was brought to the stage on the night I attended when Alex Morris, who was originally cast as John Prentice Sr. in the shuttered 2020 production, stepped confidently into the role without any prior rehearsal with the current cast. And even on book, his portrayal was awe-inspiring for its emotional depth.
With humor and insight, 'Guess Who's Coming To Dinner' performances take place at 8pm Fridays and Saturdays, 2pm on Sundays through July 17, 2022 at Ruskin Group Theatre at 3000 Airport Avenue, Santa Monica, CA 90405. Run time is approximately 120 minutes (plus one 15-minute intermission). Ruskin Group Theatre is located at 3000 Airport Avenue, Santa Monica, CA 90405, with free on-site parking. General Admission tickets are $35 (Seniors/Students/Guild $30) and can be purchased in advance by calling (310) 397-3244 or at www.ruskingrouptheatre.com All Ruskin Group Theatre staff, cast, and crew are fully vaccinated and tested daily. All guests should be prepared to wear masks for the duration of their visit inside while inside.
Mental illness within a family takes center stage during 'Harvey' by Mary Chase at Theatre Palisades in which Elwood P. Dowd insists on including his friend Harvey in all of his sister Veta's social gatherings. Trouble is, Harvey is an imaginary six-and-a-half-foot-tall rabbit. So, to avoid future embarrassment for her family, especially for her daughter Myrtle Mae, Veta decides to have Elwood committed to a sanitarium. But when a frantic Veta (the always entertaining Maria O'Connor) explains to the sanitarium staff that her years living with Elwood's hallucination have caused her to also see Harvey, Dr. Sanderson (tall and handsome Levente Tarr) mistakenly commits her instead of her mild-mannered brother.
When the truth comes out, a disheveled Veta is freed and the search is on for Elwood, who eventually arrives at the sanitarium of his own volition looking for Harvey. Panic ensues when Elwood and his invisible companion influence more than one of the doctors and sanitorium staff, as does forgiveness and acceptance when Veta finally realizes that maybe Harvey and her brother are really the smartest and most sane after all.
Directed by Marina Tidwell, produced by Martha Hunter and Mitch Feinstein, on another fantastic set designed by Sherman Wayne, the cast features Bob Grochau as a wonderfully believable Elwood P. Dowd, perhaps the most sane and accepting of his own reality, Maria O'Connor as his sister Veta, Isabella DiBernadino as Myrtle Mae, with Mari King, Jessica Kent (as a very shrewd Nurse Kelly), Jaxson Brashier (as the overly-challenged Dr. Chumley), Laura Goldstein, Josh Paris, Levente Tarr, and Mitch Feinstein in supporting roles. Tidwell directs all the players, other than Grochau, to be over-the-top in their physicality, creating a somewhat distracting broad style of farce around Elwood in the calm eye of the emotional storm. Or perhaps that was her intent, letting us know who is really in charge of the seemingly out-of-control family.
'Harvey' runs through July 10 on Friday and Saturday at 8 p.m. and Sundays at 2 p.m. at Theatre Palisades, 941 Temescal Canyon Road, Pacific Palisades, CA 90272. General admission tickets $22, seniors and students $20, available by calling (310) 454-1970 or at the box office. Free on-site parking. Vaccination cards, including proof of booster or negative PCR test or Antigen test, and masks required.