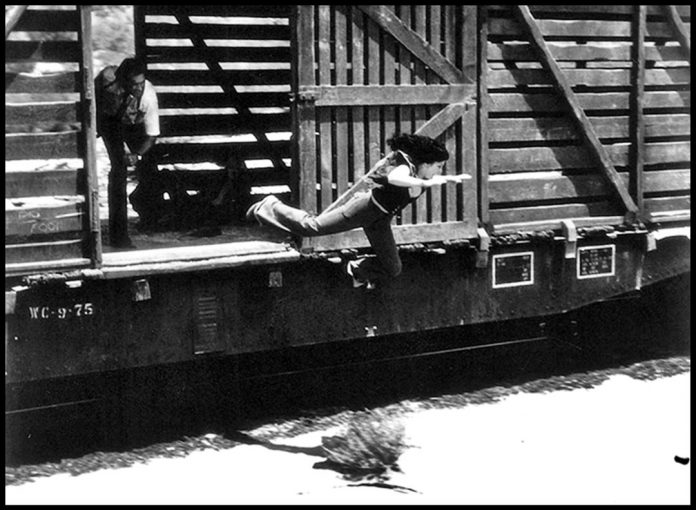 By Paul Green
Though most of us can name many of the mainstream actors and actresses that grace the big screen, many can't name a single person who performs the seemingly death-defying stunts. Often these unsung stunt actors will go under the radar of the glitz, glamour, and fanfare of showbiz and receive comparatively little recognition.
Last August such recognition was given to someone who was brought up in our backyard.
Marneen Fields is one of a select group of women who have made a career in Hollywood doing stunt work.  She was actually known as "Hollywood's Original Fall Girl" for her work which at that time, didn't have the equipment and technology routinely used today.
At the International Action on Film Festival, she received the prestigious "Legendary Stunt Award" for her work in 150 Film and TV projects. When she accepted the award, she opened her speech by reflecting back to her Culver City roots, where she was a standout in both softball and track at El Marino Elementary School and Culver City Middle School.
But it was her gymnastics feats that would propel her to new heights and ultimately a career as a stuntwoman. She was one of only three women in the country to receive a scholarship for gymnastics. She went on to Utah State University, where she competed and later taught gymnastics at the highest level.  After three years, she sustained an injury that, upon her return, changed her life in a manner she couldn't have imagined.
It was shortly after moving back to California, that she was discovered by Paul Stader, who for years worked as Cary Grant's stunt double. Stader saw potential in Fields; he took her under his wing, mentored her and cast her in 20 of her first TV jobs.
She has worked on such noted shows as "The Man From Uncle," "The Gauntlet," "Little House on the Prairie,"  "Man From Atlantis," Friday the 13th – part 2, to name a few.
At the peak of her stunt career she took her skill to a new level for both women and men.  She has taken falls off of the First Interstate building in Los Angeles, was thrown off trucks and even jumped out of a jet onto a runway.
Fields routinely performed these maneuvers by landing on a stack of boxes, a set of twin mattresses, or even a pile of blankets.  Only once in her career did she actually fall into an airbag like many of today's stunt artist.
As expected she has had her share of injuries like sprains, bruises, and whiplash but one of the most memorable injuries came from being scratch on her legs by Freddie Kruger in the movie Friday The 13th.
Growing up, Fields said she was known for walking on her hands around her block. At 5'4" she credits her success to her strength and development from gymnastics along with her training at the Paul Stador School.
But as a child, it was her love of music that she would eventually get back to as a result of a bad car accident that took her 12 years to recover from.  She has transitioned to the music industry where she is now a successful singer, songwriter/composer to which she has won awards.
You can see her acting and singing projects on YouTube, but may also one day see a story she's currently trying to pitch for the big screen.
In addition to getting married in 2016, she will publish a book titled "Cartwheels and Halos" this year, which is about finding and pursuing your dreams in the wake of tragedy.
Fields firmly believes and proclaims, "When you are on the wrong path, God will make sure you're on the right one"