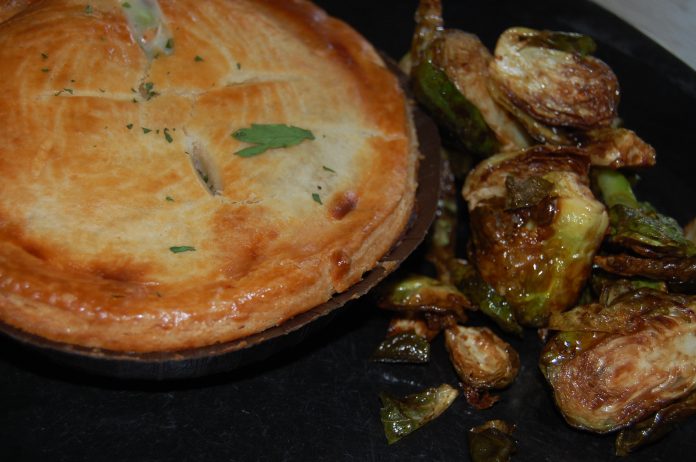 "At Erewhon, we believe that nutrition is the key to a radiant lifestyle," the upscale grocery store and cafe states online. "Through our markets, we endeavor to provide exceptional organic products that inspire good decision-making and healthier communities."
That's fair enough, but it has to be said that the local mini-chain (there are ten locations across the L.A. region including Culver City) isn't for everyone. People who already thought that Trader Joe's or Mother's Market was already out of reach would gasp at Erewhon.
It is very nice though. The grocery aisles are a lot of fun to browse through, and pick up some treats. The cheese section has some lovely, exotic items on offer, and the meat and fish looks extremely fresh and enticing.
But we were there to eat, and the Erewhon Cafe has long been recommended to us. After trying it out, we can see why. The cafeteria-style service means that you can peruse the many dishes that are behind glass, including salmon, seabass, and a surprisingly attractive Smash burger. The vegetables all looked great too, including sweet potato and asparagus.
We opted for the Chicken Pot Pie, for a few reasons. At $15, it's one of the more reasonably priced items available; that might sound a lot for a pot pie, and it is, but it's a deceptively large pie that can feed two, or in our case one person twice.
But also, it looked spectacular at first glance. No pale, soggy, microwaved pastry here – the crust was golden brown with a buttery shine to it. We were right too. The crust tasted delicious – flaky and crisp, with the perfect amount of bounce.
Beyond that, the pie was stuffed to the top with moist chicken breast in a rich, white sauce and vegetables (including carrot that wasn't overcooked). The seasoning is perfect too, resulting in honestly one of the best pot pies we've ever had.
For a side, we chose roasted brussel sprouts. A lot of restaurants are offering this nowadays, proving that our parents were crazy to boil or steam this particular vegetable during the holidays back in the old days. Roasted or pan fried, brussel sprouts are incredible. That was the case here.
Slightly blackened on the outside, soft on the inside, the leafy vegetable is brought to life and they're full of flavor at Erewhon.
Treat yourself!Erewhon is located at 9300 Culver Blvd., Suite 101, Culver City 90232. Call 310-893-1888 or visit erewhonmarket.com.