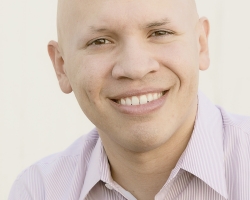 Conductor Gustavo Dudamel must have enjoyed his post-concert cocktail after he led the Los Angeles Philharmonic through three wildly different, difficult pieces Saturday night. He has just finished a demanding month in Los Angeles, which included opening the new season, one world premiere, one U.S. premiere and taking the orchestra to Santa Barbara and San Francisco. The program for his final weekend did not let him coast to the finish line, and showed a little strain. But it made some of us anxious for his return in January with The Mahler Project.
            With soloists stationed all around the auditorium, the evening began with a striking piece, "Grabstein für Stephan" by György Kurtág. An elegy to Kurtág's friend, singer Stephan Stein, it creeps up with a solo guitar's open strings being strummed, with a few other instruments joining in to create a stark, desert-like feeling that builds into a shocking climax midway through. Brass instruments and a piercing referee's whistle attack from all sides of the hall. It then dissipates just the way it started, finishing with the guitar's clarity. The ensemble succeeded in creating gravitas, as well as causing several patrons to look over their shoulders. They had my attention.
            A longer-than-usual set change afforded a moment to return from Kurtág's world. "Piano Concerto No. 20 in D minor" followed. This is a beloved piece not only by audiences but by the likes of Brahms, Beethoven and Busoni, all of whom wrote cadenzas for it because Mozart did not provide any. The strings may have been a little large here for some tastes; it added to the heavier, more romantic sound that emanated. Soloist Richard Goode, a noted Beethoven interpreter, matched that sentiment with a touch that sustained notes a little longer than felt right. The first movement was at times hesitant, with Mozart's disarming wit and charm at a minimum. However, the second and third movements were a success. Warmth and clarity characterized the famous "Romance," and both soloist and orchestra concluded the piece with great exuberance.
            Dudamel's take on Richard Strauss' "Also sprach Zarathustra" was a bit like a person trying to move an extremely large, heavy object quickly across a room. There was majesty and energy in its flow, but its bulk and momentum seemed tricky at times to slow down for deeper analysis. This was most apparent during the fourth section, known as "Of Joys and Passions" which, while very well-played, lacked some of the emphatic phrasing to mark the torrent of emotions bursting forth. The woodwinds are to be commended and Martin Chalifour's solo violin during "The Dance Song" was sumptuous. It was, for the most part, a pleasing rendition.
            While the trademark Dudamel pasión seems to have been tempered on this night and during the past month, what we are in fact witnessing is a gifted artist growing and evolving before our eyes. The process is utterly fascinating.
Ebner Sobalvarro is a Los Angeles-based classical music and jazz aficionado. Having studied English at Boston College, he shares his passions for music at his blog cornerbooth.tumblr.com. Email him at ebner.sobalvarro@gmail.com.