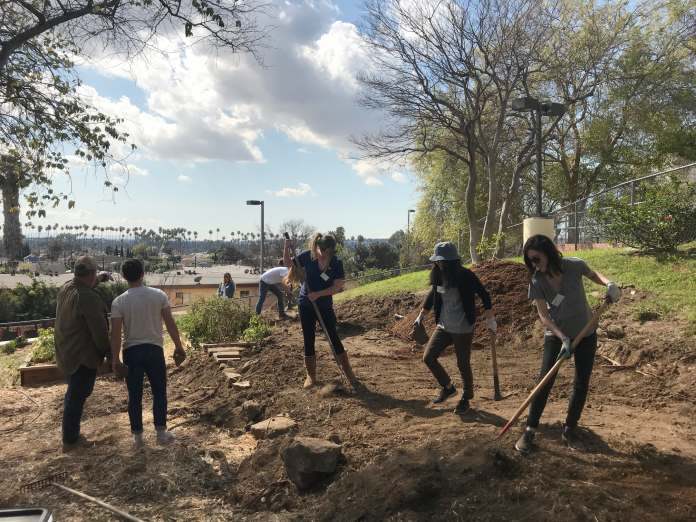 By Ronald Penh
When you volunteer with the Do Good Bus: a pick up location is provided, a bus arrives, all individuals in attendance hop on, the passengers get to know each other through icebreakers and conversation during the ride, and the passengers are driven to a random volunteer event that is unknown until the destination has arrived.
This is a different type of volunteer experience that the Do Good Bus wants to share, demonstrating that the nonprofit sector has a niche for innovation just like any other existing sector.
The organization offers a community event once a month, in which anyone can partake in it. These rides are advertised through their social media accounts on Twitter and Instagram and Facebook page which can be found searching @DoGoodBus.
Ninety percent of their volunteers, though, consists of employees that participate through corporate events, according to Merlin Clarke, director of the Do Good Bus. The organization aims to further solidify and merge the task of social responsibility among the local businesses that exist in LA.
"More and more people choose to work for, support and buy products from companies whose values align with theirs," Clarke said. "With each ride, we capture the experience and the impact of the good that businesses are doing in their community and share it throughout social networks."
Each ride is something different, so whenever a volunteer hops on the bus, they have no clue what event they are going to partake in until they arrive at their destination. Examples of volunteer opportunities in the past, however, include working with therapy horses to help out disabled/disadvantaged and special needs children, a nature-based community wellness center and animal rescue sanctuary, planting trees around L.A., volunteering to help our veterans, and bringing Little League baseball back to South Central LA.
So far, the Do Good Bus has accomplished 48 rides with an average of 25 volunteers, providing a value of $2,543 each ride to the community totaling out to a value of $122,064, according to the organization's Facebook page.
For those interested in community ride events, follow the Do Good Bus social media accounts on Twitter, Facebook, and Instagram. For those that want to book an event for their company, access the website www.dogoodbus.com and click on the "Rides" section. The organization can be reached by email at info@dogoodbus.com