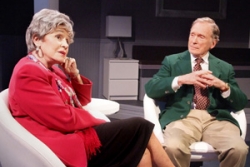 After working as a comedy writer for Jack Parr and Johnny Carson on "The Tonight Show," in 1964 Dick Cavett became a stand-up comic.  Intermittently since 1968, Cavett has been host of his own talk show, in various formats and on various television and radio networks.  On an episode of "The Dick Cavett Show" (PBS) one literary giant, Mary McCarthy, referred to another literary titan, Lillian Hellman, as "dishonest" (and worse) which sparked a war between the two women, with Hellman suing McCarthy, Cavett, and producing station WNET-TV.
The West Coast premiere of Brian Richard Mori's play "Hellman V. McCarthy" is taking place at Theatre 40 in the Reuben Cordova Theatre, 241 S. Moreno Drive in Beverly Hills through Feb. 28.
Cavett stars as himself while Marcia Rodd, from the original off-Broadway production, portrays McCarthy. Flora Plumb plays Hellman. M. Rowan Meyer, also from the original off-Broadway production, plays Hellman's caretaker Ryan. Martin Thompson and John Combs portray the writers' attorneys.
The play begins with Cavett performing his opening monologue on Jeff G. Rack's split-scene, monochrome set on the fateful day of McCarthy's appearance which Hellman and her caretaker Ryan just happen to catch while channel surfing. Angered by her rival's character bashing, Hellman begins her many years long legal pursuit for restitution. Along the way we learn why even their attorneys wish to give up the fight as well as their hateful clients.
Hard-drinking and chain-smoking, Hellman is portrayed to a tee by Flora Plumb who ages before our eyes into an older, wheelchair-bound and bitter woman. Answering to her every need is M. Rowan Meyer as her caretaker Ryan whose lights up the stage with his wide-eyed wonder and inner excitement when entering a room with celebrities he admires offers him the few moments of pure joy in Hellman's over-bearing presence.
Rodd lets us see the high-class bitch McCarthy has allowed herself to become after being orphaned at age six when both her parents died in the flu epidemic of 1918.  Knife-stabbing banter between the McCarthy and Hellman escalates when they sit down together in an attempt to work out their differences after years of legal haggling.  Plumb and Rodd shine as their bitterness explodes.
But it is Cavett who steals the show, his witty conversation adding layers of charm. Staying onstage after curtain call to answer questions about the based0in-reality play or his own personal history was a treat for the audience who peppered him with questions.  Turns out his favorite show guest were Sidney Poitier, although my personal favorite was John Lennon.
While all the actors are top rate with crisp direction by Howard Storm, the play does bog down a bit during scene transitions. I am sure as the run progresses, timing will improve and the scenes will flow more quickly.
The Theatre 40 in the Reuben Cordova Theatre is on the campus of Beverly Hills High School where there is ample free parking beneath the theatre.  Performances continue through Feb. 28, Wednesday through Sunday. All seats are $34.75. Reservations can be made by calling (310) 364-3606 or by going online at www.theatre40.org. The play runs 90 minutes with no intermission.
There will also be a subsequent performance on Sunday, March 1 at the Saban Theatre in Beverly Hills. Tickets for that one performance will be available through Ticketmaster.