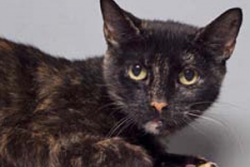 NKLA Pet Adoption Center 1845 Pontius Ave., West Los Angeles 90025 (424) 208-8840 • Open daily from Noon to 8 p.m.
Hoping to find "The One" for you this Valentine's Day? Well, look no further than the NKLA Pet Adoption Center in West Los Angeles. Over 100 dogs and cats of all types are waiting to make that special love connection with you. Throughout February, enjoy $25 adoptions on most available pets. All pets are spayed or neutered, microchipped and vaccinated. All adoptions include a personalized pet I.D. tag, a bag of food, and 1 month of pet insur- ance. Located in West L.A. Open daily 12-8pm; 1845 Pontius Ave 90025; (424) 208-8840. Learn more and watch videos of our adoptable pets here: nkla.org/PetAdoptionCenter.
LEXI Lexi is 100 percent sweetheart. She may not have any teeth, but she has so much to smile about! The way her little pink tongue sticks out is beyond adorable. Lexi would love to cuddle and purr all day for you. Adopt her for $25 this February during our Valentine's Day "Adopt The One" promotion at the NKLA Pet Adop-tion Center in West LA.
CLARA Clara is a calm, sweeter-than- chocolate girl who also has a silly side under her very zen-like exterior. She's happiest zooming across the yard and sliding into the grass for a back scratch! Clara is from NKLA Coalition partner Angel City Pit Bulls and she is available to adopt at the NKLA Pet Adoption Cen-ter for $25 during our Valen-tine's Day "Adopt The One" promotion this February.