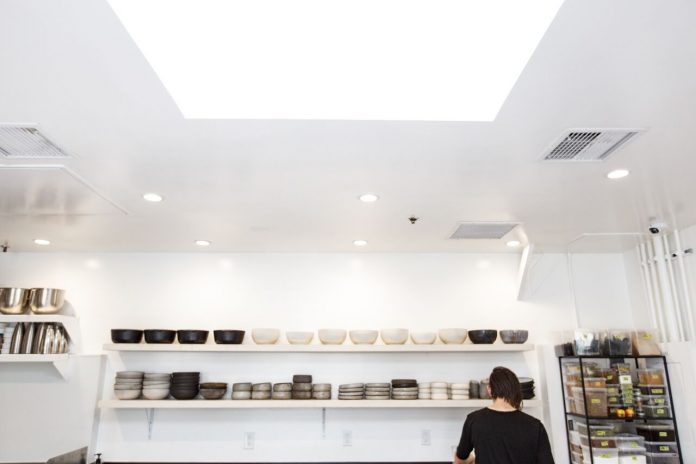 In the Hayden Tract area of Culver City, there is an unsuspecting, clean white building built in the 1940s with thoughtfully designed, drought-tolerant plants and ample patio seating called Destroyer.
Original concrete flooring and simple white and oak furniture may cause you to momentarily forget you're enjoying a meal carefully prepared by the celebrated chef of Vespertine, which is the red and glass Waffle building across the street serving dinner at $250 a plate.
The minimalistic Japanese and Scandinavian design was part of the plan to "create a tranquil environment to encourage the interaction between the chefs and guests," as stated in a March 2, 2017 remodelista.com article. The counter-style eatery with the open kitchen succeeded in giving it a relaxed feel.
Jordan Kahn, the former chef of Red Medicine on Wilshire Boulevard in Los Angeles, was awarded Food and Wine's 2017 coveted 'Best New Chefs' honor.
Kahn stated in foodandwine.com that he "kept Destroyer a secret." He surprisingly opened its doors without any publicity or announcements at all.
On a recent visit, the chicken confit was my meal of choice, which at first appearances resembled a bowl of salad. However, after delving into the layers, it was apparent there was much more going on.
Tender, mild-flavored Spigarello broccoli, considered the parent of broccoli rabe, according to specialityproduce.com, and richly flavored steamed mustard greens covered the creamy and delicious heirloom grits.
Slightly sweet yet tart hints of roasted strawberry accented the melt-in-your-mouth chicken. Packing a bit of punch was an unexpected burst of peppery, almost wasabi-like flavor, which was the fresh red frill mustard. The crunchy leaves native to the Himalayan region of India are from the mustard green family and are perhaps the spiciest of that variety.
A perfectly prepared cappuccino served in simple pottery balanced out the meal and was outstanding.
The ingredients are sourced from farmers markets throughout the west side of Los Angeles said the staff as well as from biodynamic farms in Topanga and Moorpark.
Kahn has received a warm welcome from Culver City officials and currently has no future projects planned, according to his staff. In addition to weekday hours, Destroyer recently opened on weekends and hopes to launch catering and delivery by the end of November.