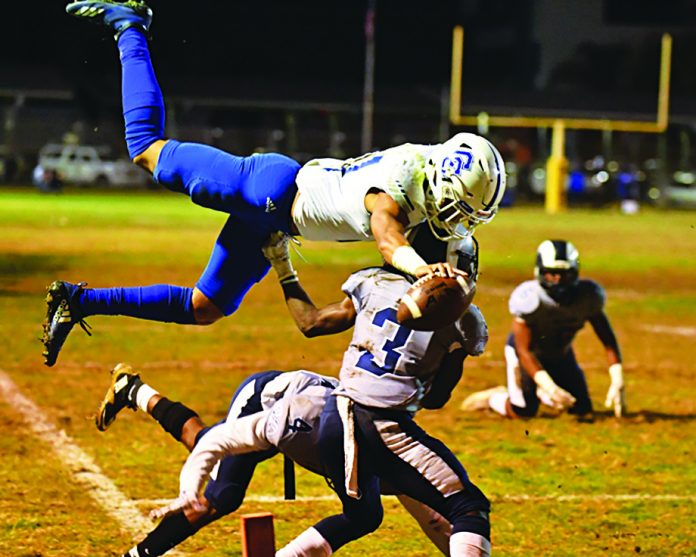 By Steve Finley and George Laase
Friday night lights will be brighter this Friday when Culver City battles Northview in the CIF Division 7 semifinals at Culver City. Kickoff is set for 7 p.m. To be the best, you have to play the best and that's who the Centaurs will face on Friday. Northview is the top-seeded team in the division and they have a record of 12-0.
The Centaurs are 10-2. "I feel good about this team right now," said Culver City head coach Jahmal Wright after their 43-30 win over Long Beach Millikan last Friday night at Millikan. "Every game is different so you have to be able to roll with the good and the bad."
Culver City knows a little bit about Northview.
"We played them in a seven on seven passing league game this summer and the game ended in a tie," said Wright. "We know they have a very athletic quarterback and some good receivers. We are just excited to be back in the CIF semifinals."
The game against Millikan proved that the Centaurs can respond to pressure in a positive way. "I thought we made the game a lot closer than it should have been but it's good to be in a close game and come out with a victory," said Wright.
The Centaurs were led by sophomore quarterback, Zevi Eckhaus who threw for 269 yards and four touchdowns with no interceptions. He has thrown for 11 touchdowns in two playoff games. Running back Joshua Ford gained 188 yards on 23 carries and caught seven passes for 80 yards and a touchdown.
Receiver Chris Miller caught two touchdown passes and receiver Jamal Glaspie had 94 receiving yards and he also scored three touchdowns. Receiver Kevin McGuire broke a school record that was held by four other receivers when he caught his 13th touchdown pass of the season.
All of the offensive greatness would not be possible without a great offensive line. "The offensive line kept us in the game," said Wright. "We were able to run and throw the ball. I am so proud of them."
Another person who is happy with the play of the offensive line was Ford. "They do a great job. They have been working hard the whole year. When I am running the ball I really feel protected and I feel like I can do everything I need to do to gain yards."
Team captain Glaspie, who has had an outstanding season, thinks the team is ready for Northview. "We just have to come out fighting and stay strong."