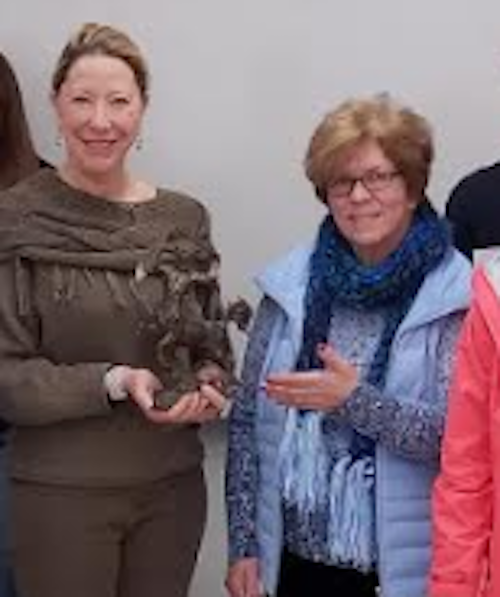 Special Ed. teacher Scherling receives honor
It takes only a brief look at the website to see that Culver City High School has set the bar high both in terms of what they offer to and expect of their students and faculty, and where "students and staff are challenged to reach their full potential."
The school focuses on what they call the 'four A's' – academics, activities, arts, and athletics.
The Academy of Visual and Performing Arts (AVPA), a competitive boys and girls athletics department, dozens of clubs, and Advanced Placement classes are among the many choices of classes and activities offered.
In addition, one of the goals of the school is that every student would graduate and be college or career ready.
Since 2005, CCHS has been a California Distinguished School. It takes effort, skill, and heart to run a successful school and one administrator wanted a way to recognize those who stand out.
In 2017, the first Centaur Spirit Award at CCHS was given. It was the brainchild of assistant principal of activities, Kelli Tarvyd. Among her other responsibilities, she is one of three assistant principals at the CCHS.
Asuncion Romo, the director of Library Services, was the first recipient of the award for his revitalization of the school library into a kids-friendly working and learning space, said Tarvyd. The award is given to a staff member by the staff member who was last honored.
Tarvyd said the Centaur Award  "lifts our educational community by recognizing people for their true Centaur Spirit. Each recipient is truly surprised and flattered by receiving the award. That is the true Centaur Spirit – our staff members do these amazing things without seeking recognition. They do it because they epitomize the Centaur Spirit."
Kathy Scherling who is in her 19th year of teaching at CCHS was a recipient of a recent Spirit Award. The Special Education teacher shared what motivates her as a teacher and said she is grateful to work at a school where there is a commitment to school culture, which demands respect and that teachers communicate with other teachers to get the resources they may need.
She said that she "loves kids" and that she strives to "build a positive school."
Scherling expressed her gratitude for the "peer-to-peer recognition amongst all the staff on campus."  She added, "in my department, we are dedicated to what we do."