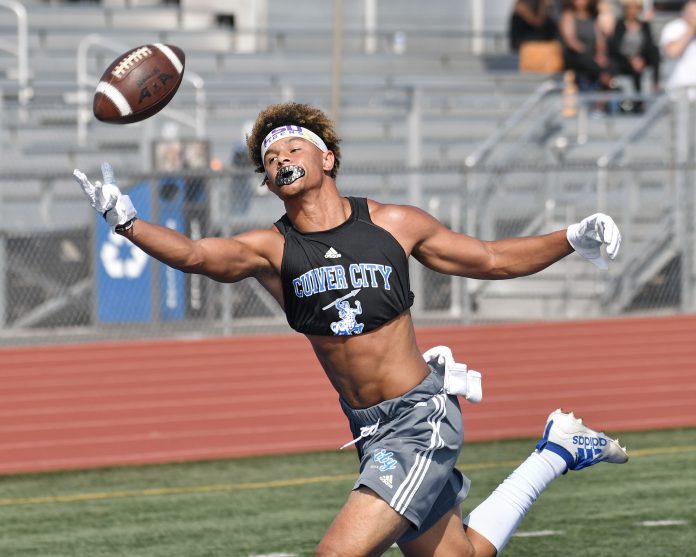 The Culver City football passing tournament on July 13 was a tremendous success with one exception; the Centaurs were eliminated in the semi-finals of the championship bracket by a very good and highly ranked Notre Dame of Sherman Oaks. Notre Dame went on to win the championship by beating Palos Verdes.
The tournament consisted of 16 teams from all over Southern California. Teams from Antelope Valley to Apple Valley, and from the inner city to Palos Verdes competed in the all-day tournament last Saturday.
"The tournament was a success," said Culver City head football coach Jahmal Wright, who along with his staff did a great job putting it all together. "I got a lot of compliments on how well the tournament was run."
Although the Centaurs did not win the tournament, Wright thinks the team is ready for the fall season.  "One thing we showed in the tournament is that we can compete with the best," said Wright. "Notre Dame is a very good Division 1 school."
Culver City is now in Division 5, which is more competitive than the Division 7 they were in last year. The CIF office aligns schools according to the competitive nature of the school. "We see it as a compliment," said Wright. "I believe it's where we are supposed to be."
Offensively and defensively, Wright thinks the team is ready for fall camp which begins August 7.  "The players are ready to go and we hope to make some noise in Division 5." Last season, the Centaurs won the CIF Championship in Division 7.
Every good football team has to have a good quarterback, and the Centaurs have as great one in junior Zevi Eckhaus. He threw for 50 touchdowns last year. "Zevi is the best quarterback nobody knows about," said Wright. "He was the best quarterback in all of the five passing tournaments we played in this summer. He has total control of the offense and he has great weapons he can throw the ball to."
Can he lead the Centaurs to another CIF championship? Time will tell. One thing is for sure: Eckhaus is confident, but not arrogant. "I feel good," said Eckhaus last Saturday. "I just like playing the game. I am not really worried about the other stuff. I just play football and try to improve my game every day. I have learned that it's a team sport."
"Nothing is better than experience especially playing the quarterback position," said Wright referring to Eckhaus. "The Culver City offense is a quarterback friendly offense."