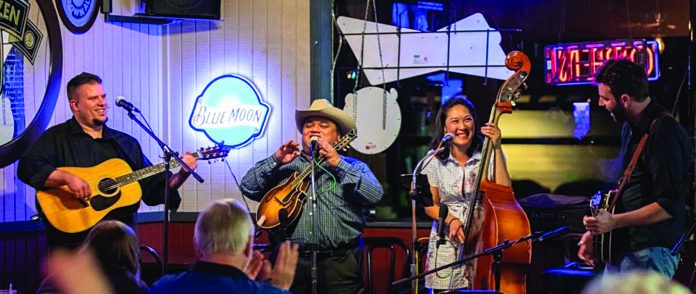 By Gary Kohatsu and Gary Mandell
Boulevard music will present two bluegrass bands that feature fabulous playing and fine vocals. Chris Cerna and The Bluegrass Republic, plus The Colonel's String Band featuring Brother Leon.
Showtime is 8 to 10 p.m., Saturday, July 27 at Boulevard Music, 4316 Sepulveda Blvd., Culver City. Tickets are $17.50.
Chris Cerna, formerly the mandolinist with the Lonesome Otis Band, brings his new great band The Bluegrass Republic, down to the Boulevard featuring experienced players performing clean instrumentals accompanied by fine vocal harmonies. This band is guaranteed to satisfy even the most critical of bluegrass music aficionados. They are a dedicated band that specializes in hard-driving, traditional bluegrass. Their setlists include traditional, gospel and the band's fine original songs performed by Chris Cerna – mandolin, vocals; Celeste Cerna – Bass, vocals; David Dickey III – Guitar, vocals and Mark Cassidy – banjo, vocals.
The News caught up with Cerna for a quick pre-performance sketch.
Chris Cerna and The Bluegrass Republic started together as a band in February 2016. Since then, we have played numerous bluegrass festivals and concerts in California, Nevada, and Arizona. The band mainly covers traditional and contemporary bluegrass and also features our own arrangements of pop and country songs. Chris has shared several of his original instrumentals with the band and recently began collaborating with our bassist Celeste Cerna on original material where she writes the lyrics and he composes the music.
Bluegrass Republic plays a contemporary bluegrass groove with smooth vocals and traditionally based energetic instrumental solos.
2) Who are your main influences?
Our band is influenced by other bands such as Rhonda Vincent and The Rage, Alison Krauss and Union Station, Ricky Skaggs and Kentucky Thunder, IIIrd Tyme Out, The Johnson Mountain Boys, and artists Bill Monroe, Ralph Stanley, Doyle Lawson, and Dale Ann Bradley, among many others.
3) Where are you based? What do you think of the local scene?
Bluegrass Republic is based out of Highland California.
4) Best gig and worst gig to date?
We really appreciate the opportunity to make music for a living and love taking our brand of bluegrass wherever people want to hear it.
5) Do you have any albums/singles available?
We are planning to record our first album in the very near future.
6) Have you played Boulevard Music before?
Yes we have
7) What can we expect from your upcoming performance?
This will be our fourth appearance at Boulevard Music, but it will be our first time sharing the bill with The Colonel's String Band Featuring Brother Leon. 3 out of 4 of us are actually in that band too, but 2 out of 3 of us will be playing different instruments in each band. You'll just have to come that night to see what all the fuss is about!
8) What are your future plans?
God willing, we would love to record an album, perform at more festivals and concerts, maybe even throw in a little road tour, and someday hopefully make it to some of the celebrated bluegrass events held in the eastern states.