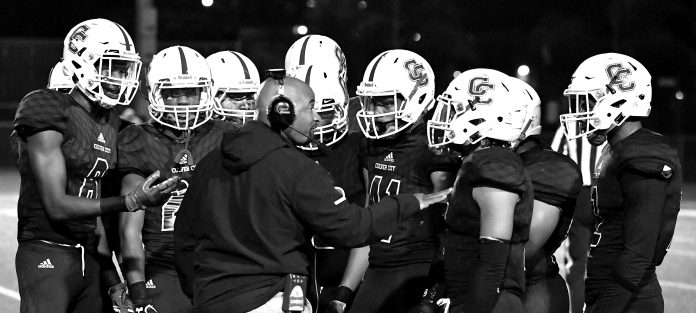 By Greg Goodyear and Larry Weiner
After playing two very physical games with Palos Verdes and new rival Dorsey, the Cents now jump into the fire with two major contests which will most likely determine the Ocean League championship.
The first will be against our arch rivals, the Santa Monica Vikings, and the next will be against the Lawndale Cardinals. Typically our games against the Vikings are hard-hitting contests filled with strong and fast athletes on both sides. Culver City needs to dominate the line of scrimmage, cut down on penalties, and play very physical football.
Early in 2018, Santa Monica named their new head coach, Matt Kirk, a former defensive coordinator at El Camino College who had also been a defensive backs coach at University of Nevada. Kirk, who is a South Bay native, has really enjoyed his time so far this year as a teacher at the high school. With the help of the Santa Monica school district, he plans to expand the football program to three levels (freshman, sophomore and varsity) next year. Currently, they have only a frosh/soph team with about 40 freshman and 14 sophomores along with the varsity.
Santa Monica recently hired a new superintendent and the superintendent has big plans for the athletic programs. He is going to follow the model of the Clovis school district in Fresno where he was the assistant superintendent. He plans to raise a tremendous amount of money to develop the sports programs at the elementary and middle school levels as feeders for Santa Monica High.
Santa Monica started out the year struggling offensively scoring only one touchdown against Compton and then getting shut out by West in game two. Changes were made and now they have won two games out of their last three. Last week they beat Godinez 55-6.
Coach Kirk is very high on his skill players and feels most of them are D1 prospects and he stated, "we've got some athletes!" The Vikings are led by junior quarterback Anthony Arnou, 6'3" 200, a transfer from Loyola High School, who has completed 46 of 90 passes for 796 yards and 7 TD's, and a 51.1 completion percentage. His two favorite targets are senior Kobe White, 6'4" 190, a transfer from Cleveland High and senior Melvin Hicks, 5'11" 165, who both look like D1 prospects according to Coach Kirk. White has 11 receptions for 230 yards and 3 TD's while Hicks has 15 receptions for 389 and 4 touchdowns. Coach Kirk also likes his senior running back, Zaire Martin-Thomas, who is a transfer from Narbonne. He has 58 carries for 295 yards and 3 touchdowns and a 5.1 yards per carry average.
When asked what he felt was the best asset of the team he said, "the defense is the strength of the team!"
Since Kirk was a longtime defensive coordinator at El Camino, he has been actively participating in coaching on the defensive side of the ball making that a priority. He also really likes his junior corners and feels both of them are also D1 prospects. They are Donovan Parker and Kaydon Thomas. He also is very high on outside linebackers Ian Gomez, 6'3" 215, who he claims runs a 4.5 40, and Amir Tryon, both of whom he feels could play at the D1 level.
When asked who his best linemen were, he mentioned right tackle Cameron Jackson, defensive tackle Steve Alexander, and two-way player Jason Villalta.
Kirk was asked how he thinks the game will play out. He predicted that "the way the game is going to go, is that we are going to score a lot of points, and we think it will be a good game to see."
He was then asked what he thought the keys to the game would be. He retorted, "whoever controls the line of scrimmage and has fewer turnovers will win the game."
Last week, in what was supposed to be a close game, the Centaurs surprisingly shut out the Dorsey Dons 42-0, but the game was closer than the score would indicate. The Cents had to play very hard and had injuries during the contest. This week's game promises to be a much closer affair.