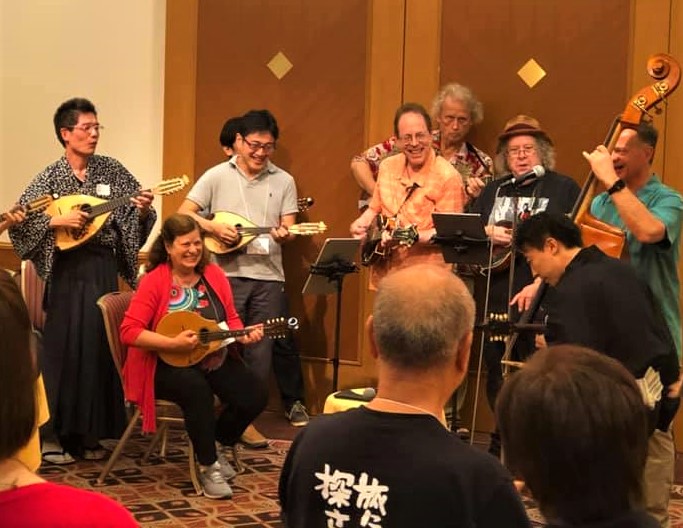 When Will Rickards bought his 14-year-old son a mandolin cello, it was an event that had a significant effect on his life.
Rickards' son showed no interest in the mandolin cello, instead gravitating toward the guitar as his musical instrument of choice.
This left Rickards with a decision: return the mandolin cello or learn to play it himself. Luckily for fans of mandolin cello music, Rickards took up the instrument, thus setting the course of his life into an unexpected direction.
Rickards, whose previous experience was in guitar, saw the similarities between the two instruments and in no time was playing in various open music events.
It was at one of these events in a local synagogue, that a friend told Rickards about an opportunity to play with the Milwaukee Mandolin Orchestra.
"I went to one of their concerts and spoke to the music director about my background as a guitar player and as a current student of mandolin," Rickards said. "Mandolin orchestras are usually trying to build a player base so they invited me to sit in for a few sessions and four years later I was on the board of directors for the orchestra."
Not only did Rickards serve on the board of directors, but he was also asked to play with the group when they were invited to play in Japan in July of this year. On the trip, Rickards engaged in three days of intense rehearsal before playing for a large crowd of Japanese mandolin cello lovers.
The mandolin cello often referred to as a mandocello, is not a particularly popular instrument in the United States but is very popular in Japan. Rickards said that average crowd sizes in the U.S. for the mandocello can range from 20 to 200 while in Japan, crowd sizes of 1,000 people or more are not uncommon. Much of this difference in interest can be attributed to Japan's stronger attraction to classical music and its practice of attending concerts as a cultural event.
"Part of this is their early and continued exposure to the music itself," Rickards said. "In America, the mandolin is a specialty instrument. It is a distinct flavor in the experience of bluegrass or country music. Occasionally, players like David Grisman or Jethro Burns or Chris Thile can build a musical narrative around the instrument in popular contexts, but it is unusual. In Japan, there was a greater familiarity with the kind of music that such an orchestra produces and a greater sense of attending concerts as part of cultural participation. In Chiba, near Tokyo, we played with the Il Mare Mandolino Club in a concert hall of a civic cultural center for an audience of about a thousand."
In addition to the differences between American and Japanese audiences, Rickards noted some differences between American and Japanese players of the mandocello.
"Most American mandolin orchestra players are like myself," he said. "We have picked up the instrument after learning one or two others (in my case guitar); we have a deep interest in vernacular music–folk, jazz, blues, rock, and roll, but we often learn by playing, sitting in. Some of us have formal training in other instruments– a lot of mandolinists had previous lives as violinists, for example; but it is still sort of a hobby for most of us. Most of the Japanese players I met had other work and professional lives, but there was a significant dedication to the instrument."
While many players of stringed instruments such as the guitar often use players like Eric Clapton or Joe Bonamassa as inspiration, Rickards names professional mandolinists Evan and Mike Marshall as his inspiration.
"They are both deeply studied musicians, with great careers behind them, who keep exploring and creating new music," Rickards said. "Evan–who usually performs locally at Boulevard Music every year or so– is specifically known for duo-style playing which combines tremolo and plucked melodies–the effect is like listening to two instruments playing the richest lyrical music. Mike is a mastery and a treasure. With his studies in Brazilian choro and in Bach partitas, he has created new realms of mandolin literature. And he has done more than anyone to foreground the capacity of the mandocello."
For anyone looking to take up the mandocello or improve their current skill level with the instrument, Rickards suggests three things: practice, learn to read music and play with other musicians.
Although his Japan trip has concluded, Rickards' adventuresome spirit continues as he prepares to take a trip to Illinois in October to meet with the Classical Mandolin Society of America where he will participate in a workshop on adding bass lines to blues mandolin music.
Rickards is also hoping to work on a project with local congregations and their musical groups through the Culver City Area Interfaith Council.