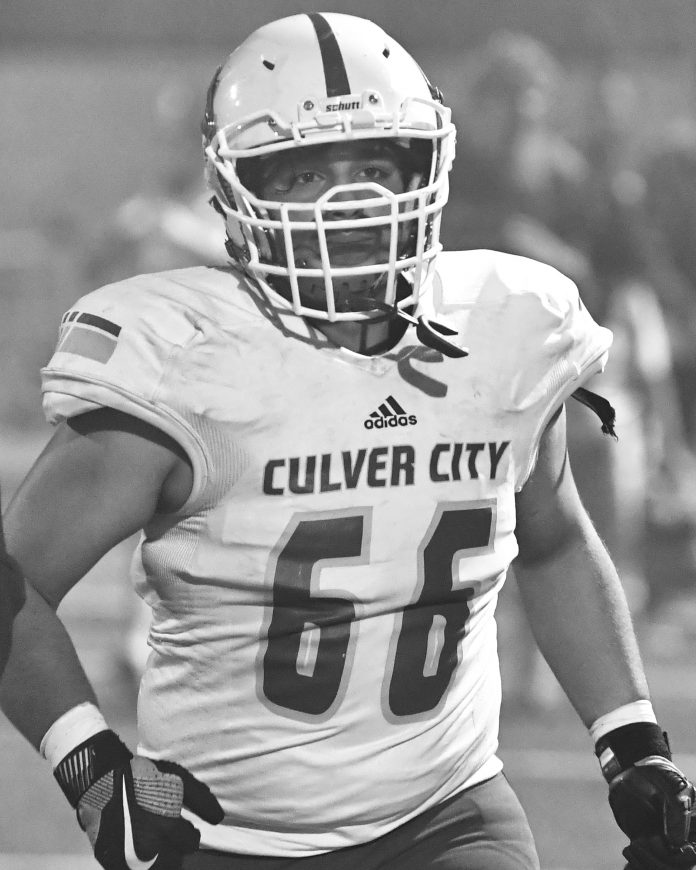 By Larry Weiner and Greg Goodyear
After finishing the 7 on 7 summer competitions, head coach Jamal Wright stated, "we're excited about the '18 team, and we've got a good mix of returners who have improved and newcomers who are hungry to improve themselves.  We also have a 'bad taste' in our mouth losing in overtime in the semifinals last year."
For the first time in recent history, the Centaurs won two passing tournaments, went to the finals in the prestigious "Bonita Air Assault," and performed very well in the last and most prestigious tournament of the summer, the Mission Viejo passing tournament where they nearly upset 3 national powerhouse programs, Mater Dei (last year's national champions), Corona Centennial, and Long Beach Poly.  Since 1999, (except for 2015), the results of the summer leagues were an outstanding indicator of how the team would do during the regular season.
With talent (5 players have already been offered D1 scholarships), depth, size, speed, and athleticism in the OL/DL, Centaur coaches and players feel very confident that they will challenge Lawndale for League supremacy and be a strong contender for a CIF championship.  In fact, the coaches feel that this team has the strong possibility of being better than last year's squad.
According to coach Wright, "we have a lot of returning starters and lettermen who are offensive linemen.  Collectively this could be our best group in some time."
The focus this season will be to enhance the aggressiveness, quickness, and the ability of the linemen to get downfield to continue blocking.  The most heralded returner will be senior ALL-CIF/ALL Ocean league left tackle, Amir Hodge, 6'4" 255, who stands out because of his toughness, quickness, and athleticism.  Wright replied, "because of Amir's work ethic he has become one of the best OL's in the Ocean League.  We look forward to Amir being the leader and the anchor of the line."
The Centaur who has garnered the most looks from D1 coaches has been right tackle Kofi Karikari, 6'5" 280.  "With his junior year being his first time ever playing football, he improved by leaps and bounds," said coach Wright.
The two people who will fill both center and guard positions will be seniors Gabe Robles, 5'11" 280 and Jose Lopez, 5'10" 215.  Junior newcomers, who will play both guard and tackle, will be Blake Kneebone, 6'4" 260, and David Narranjo, 6'3" 265.  Others who will see action on the offensive line are seniors David Aguirre and Leo Emelio and juniors Roberto Morales and Isaac Padilla. The most intriguing and imposing new prospect will be 6'6" 285, sophomore, Dylan Nichols.
The competition for the quarterback spot has been extremely interesting this year after the second all-time leading passer in Culver City High history, Jonathan Martin, graduated.  There was a three-way battle until just recently when one quarterback transferred.
Coach Wright was quoted as saying, "we have three quarterbacks (now two) who have been battling all spring and summer.  All the quarterbacks are unique and have their own skill sets."
Leading the way and having the most varsity experience is sophomore Zevi Eckhaus.  He was pressed into duty because the sophomore, junior and senior quarterbacks were all hurt last season.  Eckhaus did an amazing job completing 77% of his passes and led the team to three victories in the three games he started.  The junior quarterback, who was injured all last year, is Nick Lucero, 6'1" 210.  Nick has been improving steadily during spring and summer ball.  Senior Tee Barnes decided to transfer back to Malibu High School.  Also in the mix will be Kevin McGuire who will play "wildcat" and also be the backup quarterback at times.
Coach Wright is very enthusiastic about his depth at running back, "our running back corps is loaded with talent and depth, and I am excited about the versatility."
The running back with the most experience is senior Josh Ford, 5'9" 180.  He ran track and is elusive and the staff feels that he has Division 1 potential.  Exciting Mira Costa transfer senior Malachi McMahon, 6' 210, has good moves and is a hard-nosed runner.  Senior Cortez Wright has breakaway speed (4.5) and explosiveness.  Junior Nolan Halloran, 5'9" 165, should also get some carries.
The receiver position is loaded with talent and possesses lots of depth.  There are numerous Division 1 prospects and it is perhaps the strongest position group on the team.  Wright echoed that sentiment saying, "Culver City has always been blessed with a plethora of outstanding receivers, and 2018 is no different.  This group of receivers is one of the best that CC has had."
Leading the way is senior, Jamal Glaspie, 6'2" 190, who recently committed to Fresno State after garnering 7 D1 offers last June at the USC camp.  Alemany senior transfer and newcomer Dominick Tatum, 6' 21/2" 180, (a relative of former Oakland Raider great Jack Tatum) is quick, fast, and a good route runner, who recently committed to Nevada and will probably play safety or corner there.  Last year, junior Chris Miller, 6'1" 175, got valuable playing time as a sophomore and with his speed and skills is considered a Division 1 prospect.  A very valuable playmaker with outstanding hands, speed and quickness is likable senior Kevin McGuire, 5'9" 175, (60 catches as soph and 49 catches as a junior).  He is a fan favorite who has committed to Idaho and would have had more scholarship offers, but he could not perform this spring after undergoing knee surgery.  He claims he is now 100% and should light up the scoreboard this fall with his ability.
Division 1 potential slot receiver senior Tyler Luckett, 5'8" 165, is a track star in the off-season and made numerous big plays last year and should have another big season this coming year.  JV junior star Tanner Duve, 5'11" 195, worked very hard in the off-season and had an outstanding summer. He will be a strong addition to the receiving corps and could also have Division 1 potential.
Senior Allen Smith, 5' 81/2" 165, could also make a strong contribution.  Others who will see action will be seniors Jackson Goss and Kannon Davis, and junior Dylan Clark, and scintillating sophomore
newcomer Emari Pait, who is related to former Centaur great, WR Antwon Moutra.