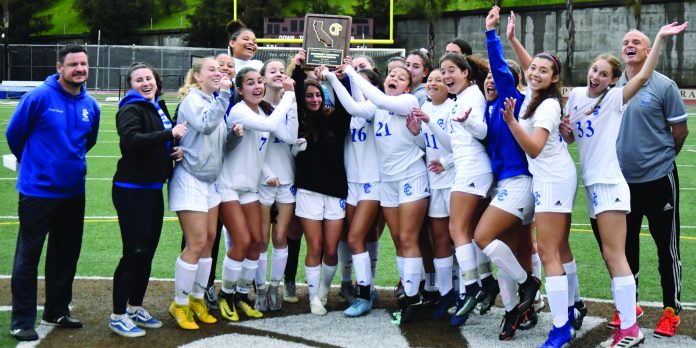 Sometimes in sports, people only remember the teams that win the championship. The Culver City high girls' varsity soccer team is one that will be remembered even though they were beaten in the championship game.
The fact that they made itHigh the way to the Southern California Division 3 Regional Final is a remarkable achievement. They finish the season with a record of 17-8-4 and they won five out of seven playoff games. Their loss in the regional final to Flintridge Sacred Heart 3-0 last Saturday on their opponent's home field in La Canada proved to be a sad and at the same time happy day for the Centaurs.
Their playoff run started in the CIF Division 3 playoffs when they beat Knight 1-0. Their next game they beat Alta Loma 1-0, then took down West Torrance 1-0 before losing in the CIF semi-final to No. 1 seeded Oak Hills, 1-0.
In the Southern California Regional playoffs, the Lady Centaurs won their first game against Mission Oak 1-0. Their second game was a rematch against Oak Hills, a game which ended in a 1-1 tie. Culver City won the game on penalty kicks 4-3. That win set up the final against Flintridge.
Before this season, Culver City wasn't even on the map of elite teams. That all changed when head coach Pete Bartlett and his staff took over the program a few years ago. At that time the team was ranked 279th in California. At the end of his first season (2017-18), the team moved up in ranking to 149th, and the Centaurs are ranked 72nd in the state following this season.
That's a big jump in two years.
What can the Centaurs do for an encore? On paper, they should be better next season because they are returning 19 players from a roster of 22. Whatever happens, Coach Bartlett and his staff appears to be on the right track.
The baseball team is 9-1 after their 5-4 win over Brentwood at home last Tuesday. During that game freshman outfielder Justin Roulston went 2 for 3, scored two runs, battered in two runs and stole two bases. Their next home game is Tuesday against Ocean League rival Santa Monica at 3:15 p.m.
The girls' softball team won their game last Tuesday at home against Santa Monica 5-3 in eight innings. Their next home game is Tuesday, March 19, at 3:15 against El Segundo. The girls' lacrosse team faces La Canada at 5 p.m. Thursday and they play El Segundo at 6 p.m. Thursday, March 14. Both of those games will be at home. The boys' lacrosse team faces Redondo Union on Friday at 6 p.m. and Wednesday, March 13, they battle Santa Monica at 6 p.m. and both of those games will be played at Culver City High School.
The boys and girls track and field teams will be back in action at starting today (Thursday) when they host a tri-meet against St. Bernard and Leuzinger, starting at 2:45 p.m. On Saturday they travel to the Long Beach Relays at Wilson high school. The first event starts at 9 p.m.