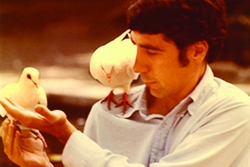 In war, history often celebrates the winners like George Washington, Ulysses S. Grant as well as some of the losers like Robert E. Lee or General George Armstrong Custer.
But what about those who chose not to participate at all? Don't they deserve recognition as well?
Francesco DaVinci believes they do, which is why his film "Refuse To Kill" exists. DaVinci's documentary chronicles the struggles and sacrifices of conscientious objectors to war.
"The main thrust of the film is to honor these brave courageous people who sacrificed so much in order to champion non-violence," DaVinci said.
DaVinci is hosting a fundraiser Saturday, Oct. 14 at 7:30 p.m. at the Peace Center to raise enough money to continue producing his film, of which only a third has been completed.
Attendance at the event is free, but donations will be gladly welcomed.
The presentation will open with a live rendition of the Beatles' classic "Revolution," performed by Tennessee Kamanski and Aaron Dennis.
After the song, a clip of the film introduced by former Massachusetts Gov. Michael Dukakis, will be played for the audience.
Several celebrities will be featured in the documentary, including Peter from Peter, Paul, & Mary, Muhammed Ali, and actor Richard Dreyfuss, who was a registered as a conscientious objector during the Vietnam War.
DaVinci said part of the purpose of this presentation is to get the general public to understand that conscientious objectors are not draft dodgers or cowards as the media would have them believe. They are patriotic Americans who strongly object to the taking of human life.
"For the first time, they'll [the general public] understand what a C.O. is and they'll gain the respect for C.O.'s that they so much deserve and that is so long overdue."
Whether it be the American Revolution, Vietnam, or the Iraq War, DaVinci says it is the conscientious objectors who deserve just as much praise for abstaining from war as those who choose to engage in war.
"One of the purposes of the film is to set the record straight," DaVinci said. "They have been slandered in the media as draft dodgers and the opposite is true. The C.O.'s are the ones who didn't go to Canada or fake their way out of the draft, and they weren't recognized for willingly going to prison."
DaVinci, himself a conscientious objector during the Vietnam War, said that at first, he had no burning desire to take a stand against the war. He changed his mind after learning that his best friend, who was serving in Vietnam, was put in charge of guns on a destroyer ship.
"The draft was my wake-up call," DaVinci said. "I felt like a hypocrite in not doing anything about my own beliefs and riding on the deferments for students in college."
DaVinci, who was attending the University of Maryland, decided to forgo his college deferment and become a conscientious objector, joining the more than 170,000 conscientious objectors at the time.
His quest to obtain conscientious objector status began in 1968 when he was 21 and lasted three years. He went through nine draft attorneys in the process.
The price for DaVinci's conscientious objector status was quite high: Lose, and be prepared to serve five years in federal prison.
Fortunately, DaVinci won his case on the very last appeal and was able to serve two years of alternative service in a San Diego community center.
"I was very naïve about the process," DaVinci said. "I thought it would just be my personal decision, but I realized that I put my family and my fiancé through hell because of my stance."
While DaVinci's family was in agreement with him philosophically, they still did not want to see him go to prison, which is why they urged him to run off to Canada or fake his way out of the draft. Even his lawyer, Charlie Khoury, wanted him to fake his way out of the draft.
DaVinci, however, nixed both ideas and was ready to face the music in support of his strong anti-kill stance.
"The press has contributed to the stigma of C.O.'s by saying that they evaded the draft or dodged the draft," DaVinci said. "The implication is that they are cowardly and unpatriotic. It's time we set the record straight. They were not dodging anything. They were facing it straight up."
The bravery that it took for many conscientious objectors to face the very real possibility of jail time for their beliefs has often been overlooked throughout history.
"The overall message of the film is: conscientious objectors have a bad rap. They've sacrificed and it's important to point out that throughout American history, they're still not in the history books and yet from the time of George Washington to the present, they've been a big part of history," DaVinci said.
But DaVinci is quick to point out that conscientious objectors are not a thing of the past.
In the movie, a female high-level military intelligence officer from the Iraq War becomes a conscientious objector. DaVinci said she became so disenchanted with what she described as the violence and needlessness of the war, that she just quit, saying that her conscience just couldn't let her be involved anymore. Her family was against it and gave her a hard time with her own father warning her that her actions will leave a black mark on her forever. She did it anyway, won her case and was granted conscientious objector status.
DaVinci, who counts Gandhi, Dr. Martin Luther King, Jr., and Einstein as role models, sees a time in the near future when conscientious objectors will become more accepted in society, thus erasing the stigma that continues to follow them.
"This [film] is my tribute," DaVinci said. "I want to be a voice for the conscientious objectors throughout history who still have not been given their due."
The Peace Center is located at 3916 Sepulveda Blvd. in Culver City between the Ramada Inn and Pauline Books and Media.