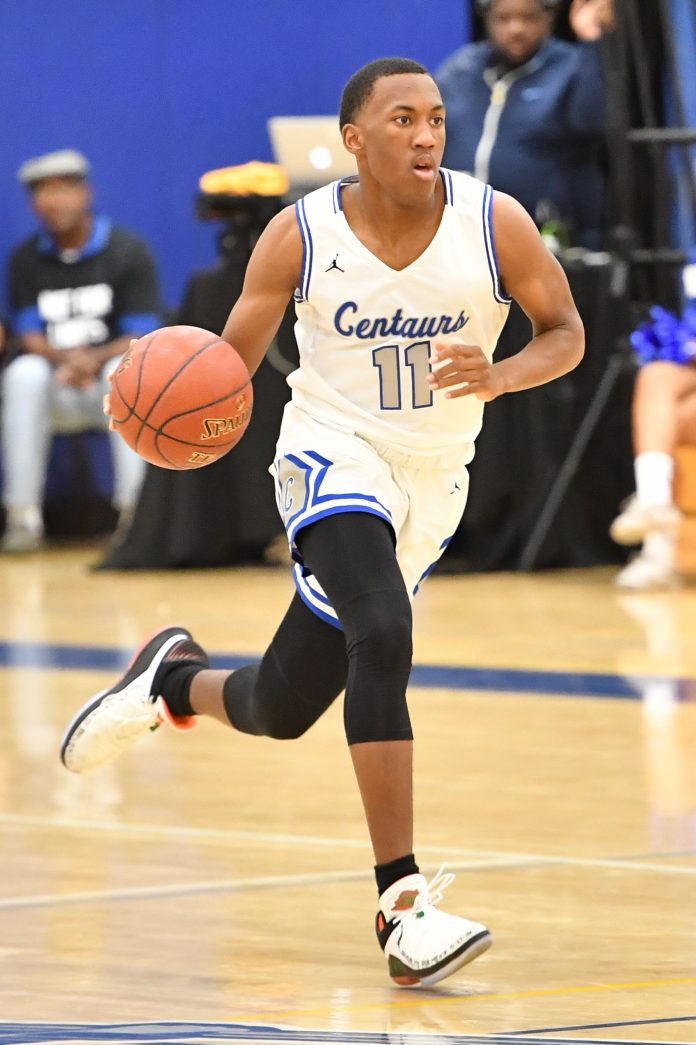 Despite losing their first Ocean league game to Santa Monica last week the Culver City boys' basketball team looked like one of the better teams in the league after they beat Lawndale 89-48 last Friday at Culver City.
The 2018-19 team is small but they make up for their lack of size with speed and quickness. First-year head coach Roy Walker Jr. likes his team despite not having a player taller than 6'4. "We have a motto, next man up," said Walker after their win over Lawndale last week. "We want everyone to get involved. We are small so we have to press and speed up the tempo."
Finding the right rotation is difficult sometimes but when the right combination of players is on the court the Centaurs look like a well-oiled machine.  "It's a process, but we are getting used to it," said Walker. "Our kids play hard. We have to stay focused and understand that with our style of play, you might be down by 20 points but you are never really out of the game."
The Centaurs are currently 5-7 overall and 1-1 in the Ocean League. They play a tough pre-season schedule and that's one of the reasons they have a losing record.  "The tough pre-season prepares us for the Ocean league," said Walker. "It also lets us know what we have to do to win games. We need to stay composed and not get too high are too low and we need to stay consistent."
Helping the team stay consistent will fall on the shoulders of senior Ryan Blackmon. Blackmon is one of the few returning players from last year. "It's better this year because all of the returning players that didn't get a lot of playing time last year have something to prove. We all have a chip on our shoulders," said Blackmon after the Lawndale game.
Coach Walker is counting on Blackmon to bring stability to the team. "He did not get a lot of playing time last year but he has stepped to be the leader this year," said Walker. "He is that guy who can give you 20 plus points per game and he his someone who can rebound the ball.  At 5'10 he is an amazing rebounder and what he gives us on a night to night basis is great for our team."
The Centaurs have 16 players on their roster and it appears that every player gets an opportunity to play. "Some people say that can be a gift or a curse," said Walker. "I look at it as a gift.  I learned from Reggie Morris Sr. and Reggie Morris Jr. that every day is a new day. Our team is built on practice. What you give me in practice will help determine how much playing time you get in the game."
With that many players that can contribute to the success of the team, the Centaurs will continue to run and press. "We have so many players who can play on this team. It's a gift to have that many players you can depend on."
The Culver City boys basketball team will play in several holiday tournaments before they return to league play at El Segundo on January 9, at 7:30 p.m.  The girls' basketball team is 8-5 and 2-0 in the Ocean league and they are scheduled to play in two-holiday tournaments before they face El Segundo on January 9, at 6 p.m. on the road.
The boys' soccer team is 3-2-1 overall and 1-0-1 in league play and they will travel to El Segundo on January 9, for a 3 p.m. league game. The girls' soccer team is 6-1-2 and 2-0 in league play and their next two games are on the road against Lynwood on Friday at 4:30 p.m. and against Redondo Union on Thursday, January 3, at 3 p.m.