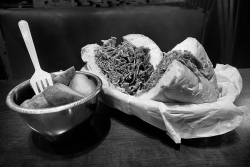 Have you heard of the "Triple Crown"? No, not that one—or that one or that one or that one. Chances are you really haven't heard of it. Why? Because it's the name a couple of college buddies and I gave to a truly epic eating experience.
The "Triple Crown" was our creative, over-the-top way of gorging ourselves on a Sunday afternoon in Colorado. We would stop at three restaurants, order food to-go from each, taking it all back to the house and dive into a deep food coma.
Ahhh, the good ol' days. I do miss them, but lessons were learned.
For instance, a "Triple Crown" in LA is 10 times better than any "Triple Crown" in Colorado. No offense, we just have better food.
Second, my metabolism decided to put the breaks on. I expected that, but those food binges are now few and far between.
And lastly, two is the new three. Finding a great food pairing is truly rewarding, and there are plenty in the Culver area.
What's my favorite "Dual Threat" in Culver City? It's a tough call—it really is. There are so many great things to eat here, but for some reason, mixing in a little 1952 landmark with a little 2009 new kid on the block turns out to be a nice one-two combo.
I'm talking about a nice pastrami sandwich from Johnnie's Pastrami and a flavorful ice cream sandwich from Coolhaus.
Established in 1952, Johnnie's has been putting out some of the best pastrami sandwiches in the LA area for more than 60 years. Lean pastrami, a french roll, au jus, mustard and a few pickles on the side—heaven.
For the last four years, Coolhaus has been putting out some of the best ice cream sandwiches in the LA area. Ice creams such as baked apple, fried chicken & waffles, peach Bellini sorbet, and strawberry cobbler sandwiched between cookies such as chocolate chunk pretzel, peanut butter captain crunch, red velvet, and vegan carrot cake—heaven.
With that being said, I want to hear from you, the readers. What are your favorite "Dual Threats" in Culver City? What's your favorite one-two punch when it comes to two spots, back to back?
Dre@theperfectgorge.com