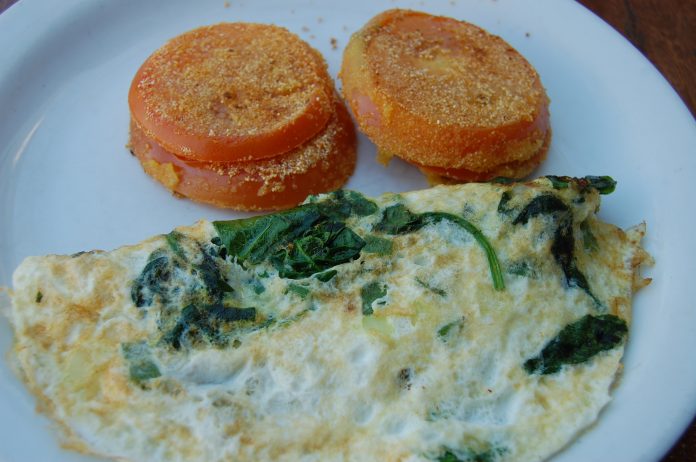 S&W Country Diner on hip Washington Boulevard has the sort of menu that you would find at just about every greasy spoon diner in the country. Fried breakfasts, burgers, sandwiches – it's all present and correct. But in keeping with the surroundings in this part of town, it's all just a little bit nicer.
It's important to note right at the start that this is a cash-only restaurant. In the era of iPhone Wallet, when people are carrying less and less cash, that's a bit of an inconvenience but there is at least a Chase Bank directly opposite, and the regulars know the deal so they come prepared. Just don't get caught out, especially if you're not a Chase customer.
With that knowledge safely in mind, the overall experience at S&W Country Diner was an impressively positive one. It's a popular place, and we went on a Saturday morning, so there was a short wait outside (there's not the space to wait indoors). Fortunately, it wasn't one of the rainy mornings that we've been having lately so it wasn't a problem.
The staff were immediately pleasant, both when taking our name and then when calling us to sit. Due to the aforementioned good weather, we took an outside seat in the pleasant street seating area.
The food is as good as we hoped it would be, and really hit the spot during the weekend brunch hours. Our son was with us, and he went with the "eggs and turkey sausage" breakfast. He chose hash browns as his "breakfast side" and sough dough for his toast.tr
The eggs, over easy, were perfectly cooked with no runny white but the perfect amount of yolk for dipping all of the other items in, particularly the hot buttered toast. The generous four links of turkey sausage were expertly seasoned, meaning that we didn't miss pork in favor of the leaner meat. The hash browns, meanwhile, were magnificently crisped and tied everything together.
This writer opted for a healthier option – an egg white omelet with three items: spinach, onions and bell peppers. No toast, and we had fried tomatoes on the side.
An egg white omelet can be bland, especially without the addition of cheese. But no such problems here – the veg enhanced the egg, as did the juice from the tomatoes. The dish felt like a treat, without getting too decadent.
Overall, it's clear why S&W Country Diner is such a popular breakfast and lunch destination for Culver residents.
S&W Country Diner is located at 9748 Washington Blvd., Culver City 90232. Call 310-204-5136.