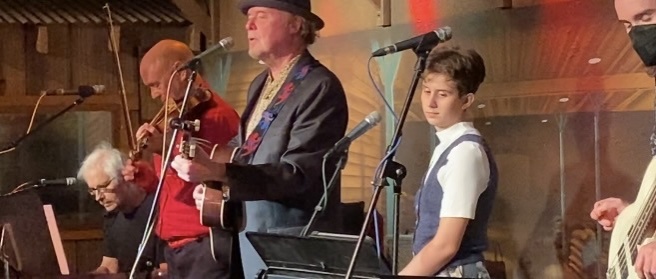 The great Leonard Cohen is sadly no longer with us, but his music will live on forever and, thanks to the likes of Bill Burnett, we'll be able to hear it performed on stage for years to come. Burnett is a respected writer with a list of animation shows on his resume that includes the likes of Woody Woodpecker and Casper. But he's also a gifted songwriter and musician. This weekend, his set is dedicated to Cohen and that will be a treat. He told the CCN about all that and more…
When did you start playing and performing? When did the band form?
When I was 16 my parents brought a nylon string guitar home from Mexico. I just pounced on it and started writing original songs and learning Simon & Garfunkel and Peter, Paul & Mary songs.
Describe your sound/style?
Singer/songwriter acoustic folk-pop. Thoughtful and funny, kind of like London Wainwright in that way. I consider Paul Simon a major influence, although I don't sound like him. And of course Leonard Cohen.
What are your career highlights so far?
Having Bette Midler cover my songs. And Patti Lupone. And creating the hit TV series ChalkZone, for which I wrote over a hundred songs.
What recorded music is available — particularly the most recent?
I have three albums up on Bandcamp: https://billburnett.bandcamp.com/
Have you performed at Boulevard Music before?
I did a show at Boulevard just before the pandemic hit, with Brad Colerick and Dale LaDuke. Before that I played with my band The Backboners.
What can we expect from the set this time?
This will be a carefully curated collection of Leonard Cohen songs. I almost always play my own originals but I was pulled in by the brilliance of Cohen's writing and the humor and beauty of his melodies, qualities that are often overlooked. I put together a great small band featuring violin, bass, guitar, keyboard and vocals. We play a Cohenocopia of tunes spanning Cohen's six decades of extraordinary writing. We've played about a half-dozen shows, all to sold out houses and great acclaim. This will be the band's farewell performance, as we all have other projects that take up a lot of our energy and time. So we hope a lot of West Side Culver City folk will turn out to see this fun and inspiring show.
What else do you have coming up?
I'm playing a birthday gig at Coffee Gallery Backstage in Altadena on Feb. 24. All original Bill Burnett songs.
Bill Burnett Sings Leonard Cohen at 8 p.m. on Saturday, Feb. 11 at Boulevard Music. Go to boulevardmusic.com for more information about the show.
Elsewhere this week
The Culver Hotel will be hosting the likes of Sylvia & the Rhythm Boys, and Scotty Bramer. Go to culverhotel.com for more info.
There's a full program of music at the Cinema Bar this week, as usual. The Hot Club of Los Angeles plays every Monday, and Wednesdays are singer/songwriter and open mic night. Other artists performing this week include Jed's Dead, Tom Gramlich, Bruce Ray White, and Matthew Fields. Go to thecinemabar.com for more info.