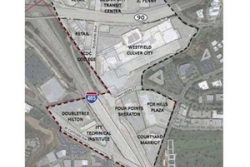 The topic of billboards and similar outdoor signage has been a sticking point for several Westside communities in recent years and Culver City has largely not been directly impacted by them; but that could soon change.
City representatives will be holding an open house in Culver City next Thursday, March 19 in the multipurpose room at the Veterans Auditorium Building, located at 4117 Overland Ave. with officials from the design and planning firm Placeworks at 6 p.m.
The open house is an opportunity for the community to hear plans for a proposed "hospitality district" that could include outdoor advertising near the 90 and 405 freeways at the southern end of Culver City near Centinela Avenue.
The city council approved a contract with the global investment titan the Carlyle Group for the proposed entertainment district on Nov. 10, 2014 to conduct a visioning study for the hospitality district and Placeworks was retained as the investment company's consultant.
While their initial plans were specific to freeway adjacent outdoor advertising, the Carlyle Group has expanded its proposal for a "hospitality and entertainment district specific plan" that would include Westfield Culver City, the Culver City Transit Station off of Slauson Avenue, Fox Hills and Corporate Pointe.
According to a Nov. 10 city staff report, one component of the Carlyle Group's new plans include "the creation of a new hotel–mixed use development district with 'thematic signs' to create area identity and a new gateway to the city."
A trio of Corporate Pointe-based hotels- Courtyard by Marriott, Doubletree by Hilton Hotels and Four Points Sheraton – plan to contribute $25,000 each to the visioning plan, which will be discussed at the March 19 meeting.
To sweeten any potential deal, the investment firm is also proposing a sign revenue sharing arrangement with Culver City "to promote economic development and provide a replacement for former Culver City Redevelopment Agency funding lost as a result of the dissolution of redevelopment by the state in 2012."
Culver City has a ban against billboards that was enacted in the 1990s and an exception would have to be officially made in order to implement the proposed outdoor sign proposal.
The Coalition to Ban Billboard Blight, an organization led by Venice resident Dennis Hathaway, has battled outdoor sign companies for several years after the Westside communities of West Los Angeles, Mar Vista and Venice were inundated with traditional as well as digital billboards for nearly a decade. After Los Angeles crafted and passed an ordinance outlawing digital billboards and supergraphics in 2009, a Superior Court judge struck down the municipal law last October. For several years, federal judges had upheld the ordinance.
An anti-billboard group, No Billboards in Culver City, has created a Facebook page for supporters to voice their concerns.  The group has created a Facebook page- https://www.facebook.com/pages/No-Billboards-In-Culver-City-  to garner support against the Carlyle Group proposal.
"Once you allow billboards, you can't control the content," said Mayor Meghan Sahli-Wells at the Nov. 10 meeting. "It's clear to me tonight and it's clear to me in my heart that this is not in the best interest of Culver City."
Sahli-Wells was the only member of the council to vote against studying the proposal for the hospitality and entertainment plan.