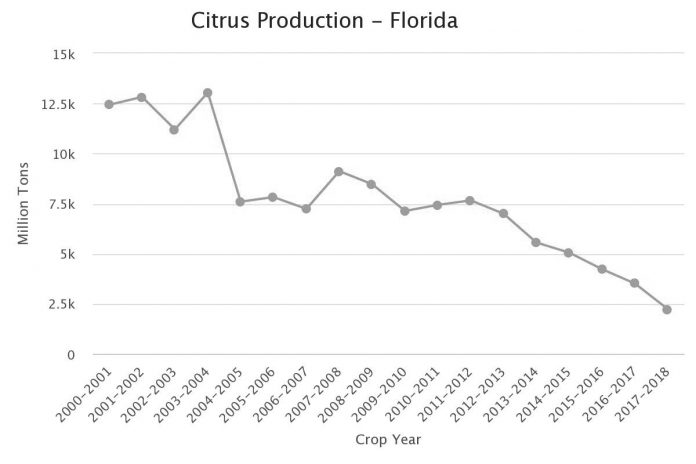 While the disease has been spreading around citrus trees throughout Southern California for over three years, the confirmation of the presence of the bacteria that causes Huanglongbing (HLB) — also known as citrus greening disease — in a commercial citrus grove has amplified concerns over the disease.
HLB is mainly transmitted by a tiny insect called the Asian Citrus Psyllid. When it feeds on the leaves and stems of a citrus tree, it can infect that tree with HLB. While HLB is entirely harmless to humans, the disease is both fatal and uncurable for citrus trees.
While relatively new in California, the devastating effects of HLB have been seen in other markets in America. In particular, Florida was once home to a bustling citrus industry, but that has changed drastically in recent years, mainly due to HLB alongside other pests and diseases.
According to the USDA, Florida produced 12.433 million tons on citrus in 2000-2001, but disease ravaged the citrus population in less than 20 years. By 2017-2018, Florida only reached about a fifth of its production just 17 years prior — producing 2.224 million tons of citrus.
A similar crash of the citrus industry in California would be catastrophic. California is currently the nation's leading supplier of fresh oranges, lemons and mandarins. It is estimated that more than half of all California residences have a citrus tree on the property, according to California Citrus Threat.
This comes together to result in $3.4 billion in sales in the citrus industry, and $7 billion in total economic revenue. On top of the 3,900 farmers that grow and provide citrus in California, over 18,000 other jobs connected to the citrus industry would be dramatically impacted.
Official efforts to contain the spread of HLB have been diverse, ranging from citrus quarantine and insect trapping to biological control through natural predators such as Tamarixia radiata, which is also known as the Asian citrus cyllid parasitoid. Culver City, along with the rest of Southern California, has been under a citrus quarantine since Dec. 2017.
However, these efforts are not enough. Experts are also employing the efforts of the public to help manage HLB.
The first step in that effort is being able to identify signs and symptoms of the disease, which manifest themselves in many forms.
The first thing one might want to look for is the presence of the Asian Citrus Psyllid. The pests are small — the biggest coming in at eighth of an inch in length — and are generally seen feeding on leaves while sitting at a 45 degree angle to the leaf.
The pest also likes to lay eggs in new flush and the smallest, most tender leaves on the tree.
As the psyllid continues to grow and feed, different foreign substances that appear on the tree are telltale signs of psyllid presence. Young Asian citrus psyllids, called nymphs, produce a white, waxy substance to direct honeydew away from their bodies, which can be seen on the plant. 
Ants are also known to protect the Asian Citrus Psyllid, so many citrus experts recommend using ant bait when dealing with the pest.
After this, the symptoms found are not just signs of psyllid presence, but also of HLB infection. These include the asymmetrical yellowing of leaves due to nutrition interference, corky veins on the tree leaves, and twisting of the leaves themselves.
Some other general tips for protecting your citrus trees from HLB include:
Inspect trees for the Asian citrus psyllid and Huanglongbing monthly, and whenever watering, spraying, pruning or tending trees. If you spot the pest or disease, call: 800-491-1899. Psyllids are most noticeable when new leaves are growing on the tips of the branches.
As part of your tree care, visit your local nursery or garden center to get advice on products that can help protect your citrus tree.
Do not move citrus plants, foliage or fruit into or out of your area, and especially across state or international borders. This could unknowingly contribute to spread of the pest and disease.
When planting a new citrus tree, be sure to get your tree from a reputable, licensed nursery in your local area.
When grafting citrus trees, only use registered budwood that comes with source documentation, such as the budwood offered through the Citrus Clonal Protection Program
Be sure to dry out citrus tree clippings or double bag them before removing the plant material from the property.
For more information on HLB in California, visit californiacitrusthreat.org