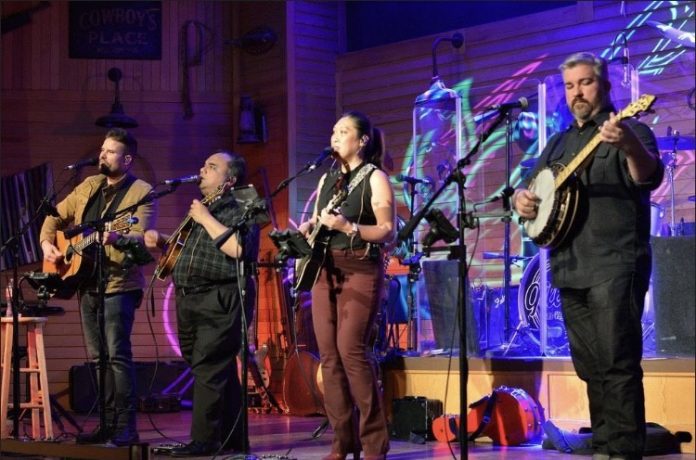 Mandolin player and vocalist Chris Cerna brings his Bluegrass Republic to Boulevard Music at the weekend. The band is completed by Celeste Cerna (bass, vocals), David Dickey III (guitar, vocals), and Patrick Sauber (banjo), and for the past seven years since forming it has proven itself to be one of the best bluegrass bands in Southern California. The Boulevard show promises to be lively, and Cerna told the CCN about what the audience can expect…
When did you start playing and performing? When did the band form?
As a band we started playing together in 2016.
Describe your sound/style?
We do anything from traditional to contemporary bluegrass, and also arrange popular songs from other genres and transform them into bluegrass style.
What are your career highlights so far?
We feel very blessed to have played at several bluegrass festivals in Arizona, Nevada, California and Oregon. We look forward to playing at many more. We also started playing in Las Vegas during the pandemic and we feel that it's a miracle because not only are we playing in Vegas but we are playing bluegrass. 
What recorded music is available — particularly the most recent?
Before the pandemic we started working on a band CD but that got put on hold for a couple years so now we're hoping to release it in a few months. So as of now the band doesn't have any recordings available but Celeste and I released a solo project during the pandemic titled Knee Deep in Sorrow and that is available for purchase. We will have some available after the show on Saturday.
Have you performed at Boulevard Music before?
We have performed at Boulevard at least three times since 2016 and it has been a pleasure sharing the stage with local bands who are good friends plus the fact that people were very appreciative and supportive of the music. We always look forward to playing for such a great audience and would like to thank Gary for allowing us to play at his venue.
What can the audience expect from the set this time?
We are aiming to deliver a high energy and fun filled evening. We always enjoy playing off each other and hopefully the audience can feed off that energy. David, Celeste and I are thrilled to have Patrick Sauber on banjo. It will be a great night!
What else do you have coming up?
Hopefully an album release in a few months and meanwhile continuing to record more both with the band and solo projects… and hopefully pick up more festivals in the near future. We are definitely thankful for all the support we've received from the bluegrass community. We have found a lot of wonderful friendships there and looking forward to either playing for you all or hopefully jamming around a campfire someday soon!
Chris Cerna and Bluegrass Republic perform with Rocky Neck 2.0 at 8 p.m. on Saturday, Feb. 25 at Boulevard Music. Go to boulevardmusic.com for more information about the show.
Elsewhere this week
The Culver Hotel will be hosting the likes of Sylvia & the Rhythm Boys, and Scotty Bramer. Go to culverhotel.com for more info.
There's a full program of music at the Cinema Bar this week, as usual. The Hot Club of Los Angeles plays every Monday, and Wednesdays are singer/songwriter and open mic night. Other artists performing this week include Bad News, Patrolled By Radar, and Tom Gramlich. Go to thecinemabar.com for more info.