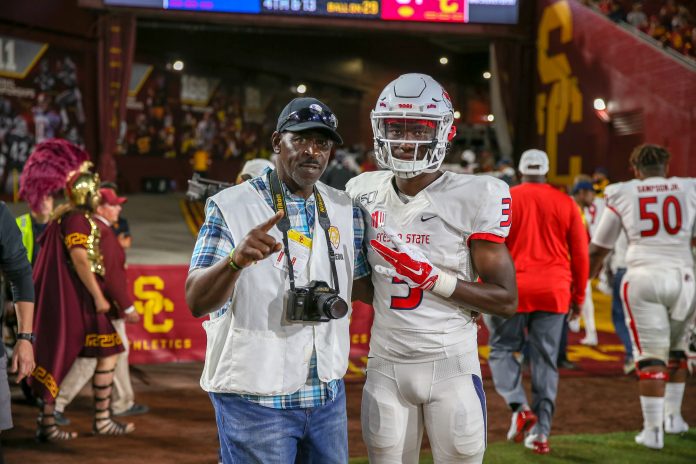 The Culver City high school varsity football team will test their skills in an uncommon situation. The No. 2 ranked Centaurs will battle Peninsula high school at 3 p.m. on Friday instead of the customary 7 p.m. starting time Culver City will have to fight two opponents on Friday, Peninsula and the heat.
"There is a little concern because it's supposed to be a little hot this week but it's going to be the same for both teams," said Culver City head coach Jahmal Wright during an interview on Labor Day.
Peninsula is 1-1 so far this season and last year their team had a 9-5 record and they reached the CIF Division 11 final. They have 52 players on their roster which is remarkable considering a few years ago the school was seriously thinking about dropping the football program because they could not get enough players to suit up.  "They are a well-coached team and they are a very disciplined team," said Wright.
Culver City is 1-0 after their 56-36 win over West Torrance last Friday night at West Torrance. The Centaurs scored a lot of points but they also gave up 36 points but according to Wright that was a little deceiving.
"For the most part our defense was solid," said Wright.  Wright pointed out that two touchdowns were scored on the second and third units and two touchdowns were scored on a short field after interceptions and one touchdown were scored on a kickoff return. " I don't think there is a problem with our defense but we can have better perimeter defense," said Wright.
On offense, the Centaurs are moving in the right direction. Last year they had one of the most electrifying offenses in Southern California and this year looks like a carbon copy. "We can be a pretty explosive team when we don't get in our own way," said Wright.
Wright continued to say, "We need to clean up some things and play a clean game where we don't make mistakes and penalties and turnovers but when we execute we are pretty tough to stop. We need to stay focused and understand our responsibilities and the players need to focus on doing their jobs."
Having so many offensive weapons is a coach's dream and Wright doesn't want to wake up. "Every team has it's calling card and what they hang their hat on," said Wright. " We are known for having speed and playmakers and it's exciting to have another year that we can catch the ball and be explosive at any given time. It's exciting from a coaching standpoint."
Wright said the win over West Torrance was a team effort but two players had exceptional games. Senior Tanner Du8ve on offense and Emari  Pait on defense. "Tanner played well with two touchdown receptions,"  said Wright. "He showed some senior leadership. Defensively the best player on the field was Emari. He had two interceptions. He tackled well and he was really a force in the secondary."
After the game against Peninsula, the Centaurs stay on the road when they face Warren high school in Downey at 7 p.m. on Friday.