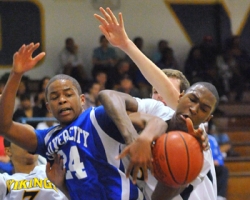 The opportunistic Culver City High School boys basketball team finds ways to pull out victories in dramatic fashion. With one second left in the game, Darren Johnson made a layup, the buzzer went off and the Centaurs, who had squandered a sizeable lead, rallied to upend visiting Morningside, 64-62, last Friday to up their mark to 5-1 in league and 18-4 for the season.
Morningside scored 25 points in the third quarter, cutting a 13-point halftime deficit into to two-point game. They led 62-58 with a minute left. Keilan Horton hit a three-pointer and was fouled. He made the free throw to tie the score at 62. Culver City clamped down on defense and had the ball baseline out of bounds, 85 feet away from their basket with 15 seconds left in the game. Morningside pressed, there was a scramble for the ball at half court, where Gabe Baettig grabbed it and made a quick pass to Johnson at the free throw line. With one second left on the clock, Johnson made a layup for the win.
Walker led Culver City with 44 hustle points. Humphrey had 31 and Baettig had 19.
The Centaurs took a step backward after a strong defensive effort against Hawthorne the prior week to squeak by Beverly by three points.
"Poor free throw shooting and only four offensive rebounds made the game closer than it ought to have been. Our players took a lot of quick outside shots and committed a lot of fouls," said Culver City High School assistant coach David Gordon.
A 13-point cushion wilted to a 50-48 lead after three quarters at Beverly Hills, last Wednesday, before the Centaurs came from behind to defeat the Normans, 64-61, in another wild finish.
Just like the game against Morningside, halftime leads were reduced to two-point advantages after three quarters, and the Centaurs trailed briefly with a minute to go in regulation.
Down by one, 61-60, with a minute to go, a Centaur fast-break layup, some missed shots by Beverly Hills
and a couple of Culver City free throws put the Centaurs on top for good.
Rufus Humphrey tallied 45 hustle points (rebounds, assists, steals and blocks), and Gabe Baettig had 41 to pace the Centaurs at Beverly Hills. Aamahd Walker contributed 31, Kekoa Mathews earned 18 and Johnson had 18 hustle points.
The Centaurs hosted Santa Monica yesterday and will visit Inglewood Friday, in a match-up of first-place squads. Inglewood routed Culver City, 69-46, two weeks ago at the Del Goodyear Gym for the Centaurs' only Ocean League defeat.
The Centaurs travel to Hawthorne on Tuesday, and host Beverly Hills next Thursday.