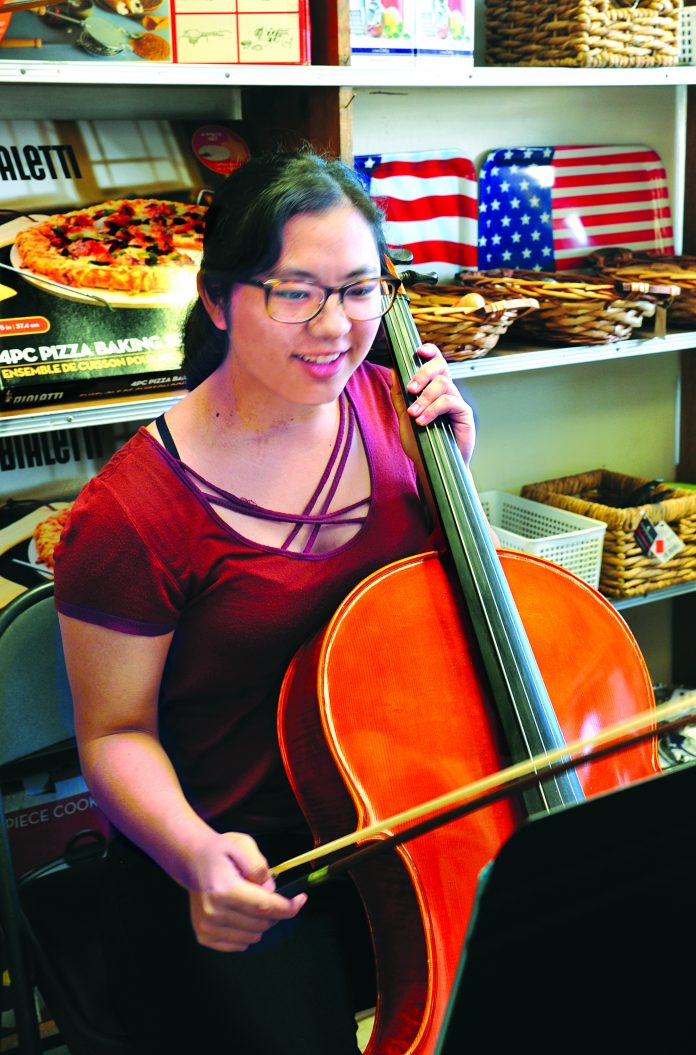 By Gary Kohatsu
Erin Akamine looks like a musician, if such a look actually exists. Her instrument of choice, however, might surprise some. Many migt guess the piano or maybe the clarinet. But no, they would be off by a good yard.
Akamine plays the cello, a string instrument that is nearly as large as her. In fact, in size alone, the cello requires some effort just to transport. And it's usually, if not always, played in the sitting position.
But likewise, the cello has its charms, Akamine says.
"I love the sound and the range and also because my mom played a little violin and my sister played the viola," she says of her choice.
This Culver City High junior has been playing the cello since the fifth grade —  for six years to be exact.
Her mother Lynn, a lifelong music lover, was influential in guiding her daughter to the "ideal" instrument.
"I encouraged Erin to try the cello in the 5th grade," Lynn Akamine said. "At the time, she was a competitive gymnast and she stopped gymnastics in 6th grade. Cello became her main focus.
"We did not foresee that Erin would do well in playing the cello; it was basically, us (family and friends) enjoying her progress each step of the way. I do feel that she is just beginning her musical journey on the cello — there is plenty more to learn," Lynn Akamine added.
A quick check in Wikipedia tells us, "after the double bass, (the cello) is the second-largest and second lowest (in pitch) bowed string instrument in the modern symphony orchestra."
The cello so it seems, fits into the Akamine family musical dynamics just fine.
"This was a perfect opportunity to play in a trio or a quartet if you included my sister's viola teacher," Erin says. "I was able to borrow a three-quarter-size cello from a friend—as my eleven-year-old self—was much smaller at the time, and I got a recommendation for a great teacher."
Now in 2019, Akamine, 17, is a rather accomplished young musician. Just look at her resumé. She has given solo performances, as well as performed with advanced artists — including her personal teacher and mentor, Arlette Cardenes.
"I have performed in many recitals with Arlette at churches and
other locations," Akamine says. "With the AVPA (Culver High's Academy of Visual and Performing Arts) string orchestra, we have performed at the Robert Frost multiple times, Culver Senior Center and the Kirk Douglas Theater for the annual AVPA Java Gala."
While she enjoys performing before an audience, Akamine says she is just fine playing privately or with family for pure pleasure.
"For the audience, I enjoy their reaction to the music," she says. However, if I were to choose between performing in front of hundreds of people or just playing the cello with piano accompaniment from my mother, I would choose the latter."
An "A student with some Bs," Akamine has college aspirations, but at this time is undecided on a university. And is undecided on a major of study.
This week, Akamine and her fellow AVPA musicians performed a concert at the Culver City Senior Center. She says that part of the joy and challenge of being a young musician is striving to improve.
"I am part of the string ensemble in AVPA, led by Tania Fleischer. She really is amazing as a musician, instructor and conductor," Akamine says about Fleischer, another of her mentors.
"For playing the cello, I am still discovering different composers and styles from different periods, but so far, any music that is faster in tempo is actually more interesting to play (but not necessarily more difficult). Of course, I look up to Yo-Yo-Ma, he is simply spectacular.
Akamine says she practices with the cello at least one hour a day. Besides her mother and Fleischer, Erin credits Cardenes for pushing her and inspiring her to reach her potential.
"Arlette is a patient, and fun teacher. She loves to challenge me and teaches me how to be more confident in my ability," Erin says. "She encourages me to work harder, practice more, challenge myself, and to develop more as a musician, and therefore as a person. She has taught me how to act and play in front of an audience and is teaching me the importance of putting musicality and emotion into different pieces."
Working on her weaknesses is a big part of the learning experience. "My biggest challenge in playing the cello is playing all out," Erin Akamine says. "I have a tendency to play softer as I get to a difficult part in the piece."
Lynn, who plays the piano, dabbles in the guitar, violin and ukulele,  says that Erin isn't the only gifted musician in the family. Other family members are also doing well musically in their own right.
"(Erin's) older sister Michelle played viola in AVPA String Orchestra when she was at CCHS, and she plays Sanshin (Okinawan string instrument) and Okinawan Koto," Lynn told the News last week. "Her father Don plays Sanshin (he started playing because Michelle didn't want to go alone to class). Don claims that he has no musical ability, but he practices diligently. In April, his Sanshin group will be playing at Carnegie Hall!  (Ryukyu Koten Afuso Ryu Ongaku Kankyuu Choichi Kai — the head master is a Living National Treasurer on Sanshin in Okinawa).
For Erin Akamine, she won't commit to a professional musical career at this point.
"I plan to continue playing cello even in college and hopefully retain those skills as a cellist for life," Erin says, "(but) I don't think I will
pursue a career in music. But will continue playing as a hobby and as something to enjoy."
Mom Lynn believes that music will always be a major part of Erin's life.
"Erin is exploring other genres besides classical music.  She, two other cello students, as well as Arlette, formed a Quartet called 'the Wolf Catchers,' ("The wolf is present on or in between the pitches E and F? on the cello, and around G? on the double bass. A wolf can be reduced or eliminated with a piece of equipment called a wolf tone eliminator," according to Wikipedia). They play classical and popular music. Also, she is collaborating with other Okinawan musicians (Sanshin and Okinawan Koto) to play Okinawan/Japanese music."
At this point, Erin Akamine is simply enjoying the ride.
"My best experience as a musician is when I work with others in a quartet or quintet," she says. "The best moment is when all the music fits together and everyone is perfectly in tune with each other."