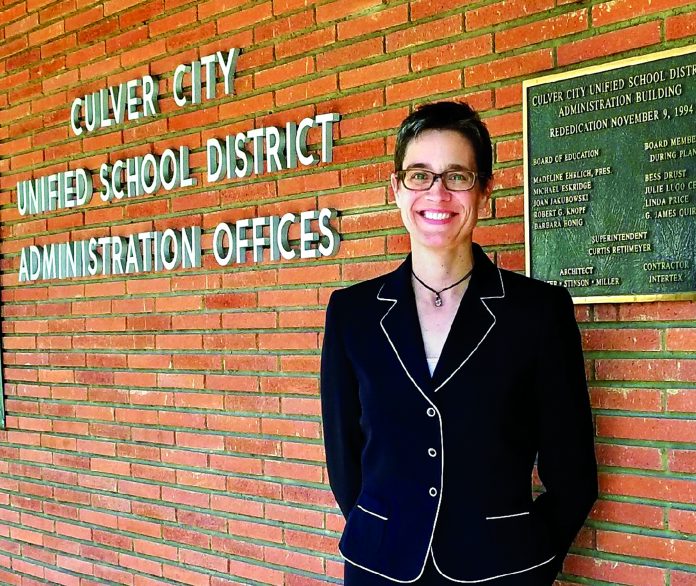 Jennifer Slabbinck to assume duties on April 2
At its regularly scheduled March 13 meeting, the CCUSD Board of Education unanimously approved the hiring of La Ballona Principal Jennifer Slabbinck as the District's new Assistant Superintendent, Human Resources, effective April 2.
Slabbinck was hired by the Culver City Unified School District as the Principal of La Ballona Elementary School in 2012. Her commitment to CCUSD goes beyond her professional position as well, as she is the proud CCUSD parent of a second-grader (and another future student), school board officials said.
"During her six years at La Ballona, Jennifer has proven to be an innovative and creative leader who has developed close relationships and support from her parents, teachers, staff and students," Superintendent Leslie Lockhart said. "We are excited about her joining the administrative team and look forward to the expertise she will add to the District Office."
Slabbinck is in her 18th year as an educator. She started out as a teacher in the Glendale Unified School District, where she taught grades 2-6 at both the elementary and secondary levels.  In 2008, she left GUSD for an opportunity to work as an administrator in the Gifted and Talented Programs office in the Los Angeles Unified School District. In this role, she provided training to K-12 educators, represented her department on district-wide instructional committees, and provided oversight for the District's Gifted Magnet and Schools for Advanced Studies programs.  Additionally, Slabbinck presented at state-wide and national conventions on topics such as differentiation and Response to Instruction and Intervention.
She then returned to Glendale as the coordinator of a federal grant, the Magnet Schools Assistance Program. In this capacity, she oversaw a multi-million dollar grant aimed at increasing the diversity in three elementary dual immersion schools. Her role included student recruitment, lottery oversight, and working with a team to develop a district-wide instructional articulation plan for dual immersion programs.
Slabbinck said she is looking forward to her new role with the school board.
"I have thoroughly loved every minute of my time at La Ballona Elementary School and know that the experience I gained there has been invaluable to my own professional growth and development as an educator," Slabbinck said. "While I am sad to leave La Ballona, I look forward to the challenge of a new position and I am excited to support Superintendent Lockhart in implementing her vision for the Culver City Unified School District."