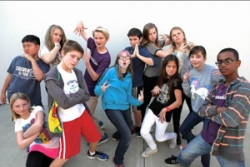 During the weekend, the Culver City Middle School Theatre Arts Comedy Improv troupe gave audiences a belly full of laughs in six incredible performances at the Robert Frost Auditorium.
The CCMS School Theatre Arts Comedy Improv troupe will now prepare for the Spring Shows scheduled to take place on May 16-17 and which will also take place at the Robert Frost Auditorium.
Set into groups of 12 and led by professional improvisers and teachers Jennifer Flack and Eric Price, 72 middle school students took the stage in a memorable performance this past weekend.
Similar to professional Comedy Improv shows, students performed a variety of improvisation games and skits based on suggestions from the audience. Musical improviser, Scott Passarella, led the students on the piano with hilarious improvised songs.
"While encouraging play and discouraging hesitancy, we teach them to be kind to themselves and each other, face fear, take pride in their ideas, celebrate and have confidence in themselves and each other, perform to the top of their intelligence and work as a team," teacher Jennifer Flack said with regards to teachers' role. "These are performance skills and they are life skills.  We are extremely proud of the CCMS Improv Troupe and what they have accomplished."
Since its inception in 2009, the mission of CCMS Theatre Arts has been about building a creative and collaborative community that strengthens self-esteem and provides positive academic, artistic, social and emotional experiences for middle-school students during a transitional time in their lives.
Among the goals is to open doors for exploration and discovery and help students develop social skills, team building, problem solving, confidence in public speaking, and communication skills overall.
The founders and directors of CCMS Theatre Arts believe passionately in the importance of a high quality arts education driven by excellent teaching and support from families and the community. The program has been a huge success and students who participate in the program experience astounding developments in self-confidence, radical acceptance, trust, responsibility, listening, courage, flexibility, and commitment.
These skills translate directly to academic performance, emotional/social intelligence, and students' lifelong love of learning. The Improv Comedy Program was made possible in part by a grant from CCEF. Advance ticket sales are available by emailing  tania@berliners.org. More information regarding CCMS Theatre Arts is available on Facebook.