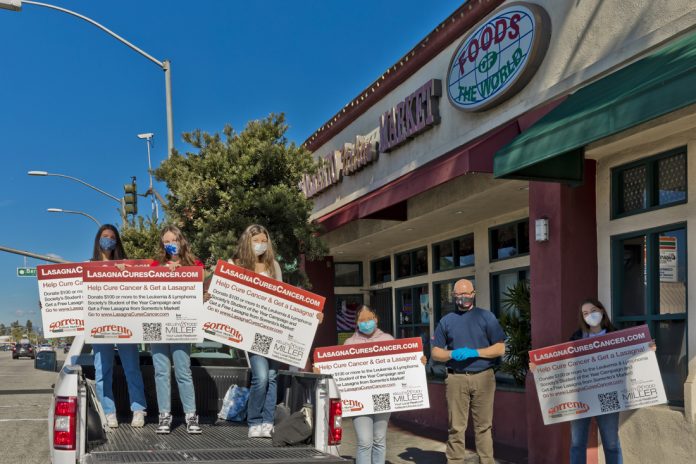 "Lasagna Cures Cancer" is a fundraiser for the Leukemia and Lymphoma society that will give individuals that donate $100 or more to the organization with a free family size meal of lasagna, pasta and meatballs, or ravioli (all meals feed 5-10 people) from Sorrento's Italian Market.
Sophia Miller, junior in high school, organized Lasagna Cures Cancer along with other high school students in part of a national fundraiser to raise money for the Leukemia and Lymphoma society.
Sophia was born and raised in Culver City. Sorrento's Italian Market was a place that she felt was a cultural gem, and reached out to them to see if they wanted to assist with the fundraiser. 
Her relationship with the market goes back to when Sophia was in middle school council and Sorrento's helped out by donating food for free.
"Sorrento's had always donated food for us for free for events which I thought was super amazing," Sophia said. "I feel like the Sorrento's market just really fosters community in Culver City because they give back to the community in so many ways."
Miller's goal is to raise $100,000. The last day of the fundraiser is March 5. The coupons to receive the free meal from Sorrento's are effective until Nov. 30, 2021.
The Leukemia and Lymphoma society invests in research, provides education and support to patients, and advocates at the state and federal level for legislation to help those with cancer. Their mission is to cure leukemia, lymphoma, Hodgkin's disease and myeloma, and improve the quality of life of patients and their families, the organization's website states.
Sophia's favorite thing that the Leukemia and Lymphoma society is doing is funding research toward treatment for children to reduce the possibility of them developing chronic health issues later in life, she shared. 
Sophia's parents, Kelley and Todd Miller, are local realtors that own the real estate agency Kelley and Todd Miller which is assisting the fundraiser by offsetting the costs of the meals prepared by Sorrento's Italian Market.
You can make a donation by visiting the website lasagnacurescancer.com. All donations are tax-deductible. 
For those with questions, you can contact Kelley Miller by phone at 310-916-8470 or by email at kelleymiller1@gmail.com.