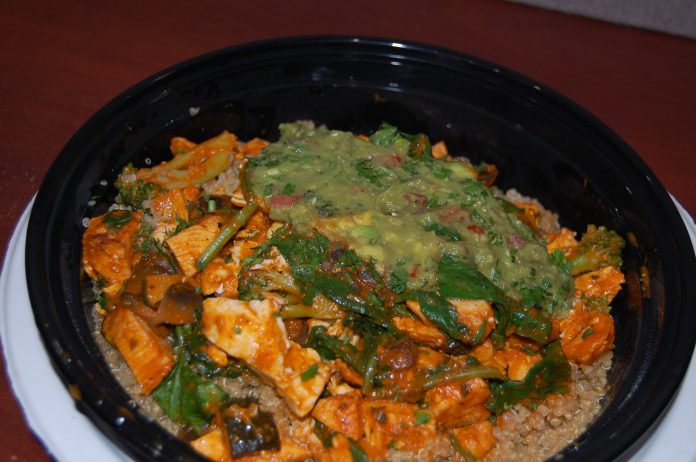 Located on Culver Blvd., Cafe Vida is an attractive enough eatery from the outset. The lush greenery draping the wooden exterior offers a Mediterranean feel that is both clean and swanky while simultaneously welcoming and natural.
The outdoor seating, regardless of whether COVID conditions are lifted, makes for an ideal spot to soak in the SoCal sun and maybe indulge in a spot of people watching, while the cool interior is equally warm. So straight away, Cafe Vida is a place that encourages you to sit down and chow down.
Full disclosure – this writer is in the process of shedding some pounds and switching to a healthier lifestyle. It's about time I stop eating like a teenager. So for the next few weeks, I'll be seeking out options that are healthy, while also delicious. Nutritious, but still feel like a treat.
Fortunately, Cafe Vida has no shortage of that sort of thing, and we opted for the Breakfast Balance Bowl. Now, it might not look like the most attractive dish based on these pics. The combination of tomato sauce and guacamole might not be the most photogenic. But trust us, this thing is wonderful.
You have a choice of Spanish brown rice or quinoa for the base, and we opted for quinoa – not only for health reasons but also because quinoa is a delicious grain, and less heavy on the stomach than rice. The other option is with the protein: grilled chicken, turkey burger or roasted rofu. We went the chicken route.
So, with the decisions made, all that was left was to sit and enjoy the bowl. For this critic, it's not particularly normal that I would eat zucchini and broccoli for breakfast, but hey, it's good to get out of one's comfort zone. In fact the vegetables, including spinach, added gloriously fresh flavor to the soft snap of the quinoa.
The rich tomato sauce is the key to this dish though. It binds everything together, soaking the quinoa and mixing with the juice from the mushrooms and vegetables. It adds flavor to the egg whites, which is important because they can be painfully bland without the additional flavor of the yolk.
The roasted jalapeño offer a welcome bite, again boosting the flavor with the calories. The guac balances that. And finally, the roasted chicken is well cooked, not chewy, and again boosted by the variety of flavors.
On paper, the Breakfast Balance Bowl might not look exciting, and the pictures might not look attractive. But appearances are deceiving in this case – Cafe Vida has a healthy breakfast dish that tastilizes the taste buds. And that's priceless.
Cafe Vida is located at 9755 Culver Blvd., Culver City. Call 310-287-0140 or visit cafevida.net.