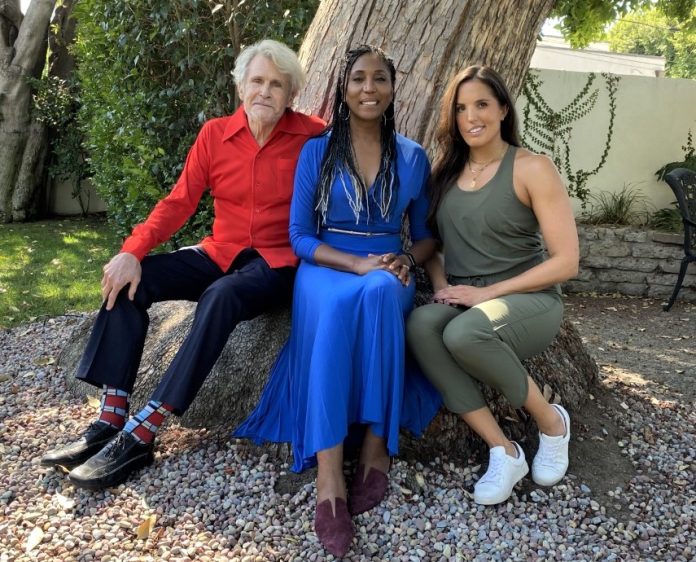 Skylight Theatre Company is one of Los Angeles' premiere destinations for new plays with fresh perspectives. On Thursday, Oct. 6, I was invited to attend their Fall Celebration and Artivist Awards benefitting their 2023 Season, which will focus on female voices in the theatre world. The fundraising event commemorated the work of three outstanding activist/artists, Michael Kearns (LGBTQIA+ community), Sarah Tubert (Deaf community), andNita Whitaker(Youth Literacy). Prior to the awards presentations, I enjoyed meeting like-minded arts enthusiasts, theater goers, Skylight Theatre Company Board members, stars of stage and screen, and friends of the honorees as we enjoyed delicious hors d'oeuvres and wine tasting in the beautiful outdoor garden at the Beverly Hills Women's Club.
For nearly fifty years, Michael Kearns (Actor-Writer-Director-Producer-Trailblazer-Activist) hasbeen a provocative and impassioned voice in the cultural and artistic landscape of America. Perhaps best known as the first out HIV-positive actor in the Hollywood industry, he is beloved in the Los Angeles theatre community as a former Artistic Director of Celebration Theater, and co-founder (with James Carroll Pickett) of two organizations dedicated to combating AIDS, among many others. Although sidelined and unable to attend the evening's event, many spoke about his contributions to the world of L.A. theatre as well as their love and respect for his willingness to speak the truth.
When Sarah Tubert(Actor-Signer-Athlete-Activist) was three, a surgeon severed her facial nerve, which paralyzed the right side of her face and took her hearing in an operation she did not need. She used to ask her mother, "Why am I the only one with a crooked smile and a hearing aid?" Her mother would reply, "I don't know why, but this is your journey and let's see what we can do with it." And she has done so much as the Co-Host of the "What the Deaf?!" Podcast with Carly Weyers; being Captain of the USA National Deaf Women's Volleyball Team; and a signer of songs (ASL) including "Show Yourself" from Frozen II and "Alexander Hamilton." Sarah's motivational acceptance speech, both spoken and using ASL, honored her dream of being able to do what she loves, and her joy of inspiring others to do the same even in the face of overwhelming odds.
Nita Whitaker (Singer-Actor-Author-Nonprofit Founder-Producer-Songwriter) recently made her Broadway debut as Wiletta Mayers in Alice Childress's Tony nominated Trouble in Mind and was the 2019 NAACP Best Supporting Actress for her role as Mom Winans in the Broadway-bound musical Born For This. Nita is a former ICU registered nurse, a former Miss Louisiana, and Star Search Hall of Fame Grand Champion, who continues to champion literacy through her 501(c)(3) non-profit, In A World With Books (www.inaworldwithbooks.org), which to date has put 18,000 new books in the hands of underserved children. The organization's goal is to foster good reading habits that will develop a love of reading at an early age. And, of course, an appreciation of the arts and a greater understanding of each other.
To learn more about Skylight Theatre Company and donate to their 2023 Season focusing on female voices in the theatre world, visit www.skylighttheatre.org
From the worldwide influences of L.A.'s earliest days to the world stage our city has become, seemingly against all odds, its artists always find surprising ways to reinvent themselves, their art, and their community. To honor our city and its artistic creativity, MUSE/IQUE continued its adventurous year-long concert series, L.A. Composed: A Festival of Los Angeles Music, with Grand Avenue led by Artistic Director Rachael Worby, which featured tap dancer extraordinaire Savion Glover, award-winning violinist Charles Yang, vocal soloist LaVance Colley, Richard Mata on guitar and vocals, and Karen Han-Ottosson on erhu, a traditional Chinese two-stringed instrument.
Bolstered by the talented and energetic MUSE/IQUE orchestra, Rachael Worby brought to life some of Grand Avenue's biggest musical moments and stories, sharing interesting historical tidbits about Chinatown, Olvera Street, the Dorothy Chandler Pavilion, Walt Disney Concert Hall, the Biltmore Hotel, Bunker Hill and Angel's Flight, all the way to the L.A. Memorial Coliseum, home to the 1932 and1984 Olympics. Video clips and photos enhanced the perspective of each location prior to the musical selection relating to it.
Some the many outstanding numbers included Glover and Savion's crossover duet during Vivaldi's "Four Seasons," Richard Mata's rousing rendition of "La Bamba," John Williams evocative theme for the Olympics set against Rafer Johnson's climb up the L.A. Coliseum steps to light the torch, "Somewhere Over the Rainbow" which won the Oscar for Best Song at the ceremony held in the Biltmore Bowl, and John Williams theme song from "Schindler's List" which won the Oscar when the ceremony was moved to the Dorothy Chandler Pavilion (which opened its doors in 1964 thanks to our real hometown "Dorothy" who created a home for the L.A. Philharmonic and whose vision led to the creation of The Music Center we know today). Vocalist LaVance Colley honored the legacies of Frank Sinatra, Stevie Wonder, Quincy Jones, and Ray Charles with his powerful solos.
For more information about MUSE/IQUE and their final L.A. Composed: A Festival of Los Angeles Music event SUNSET ON SUNSET on Nov. 12 and 13 at Union Station, whichtraces Sunset Boulevard's musical mystique from film noir to the glam of the famed "Sunset Strip," and their Music is Power 2023 Season, visit http://www.muse-ique.com/.