Nuzzled into a corner of Overland Avenue, all gray stone and white-on-red writing, the exterior of Cafe Laurent looks for all the world like the French style cafe that it is. When you venture inside, the theme remains. Mustard yellow walls and table cloths, plants and art everywhere – it's all very classy.
"We [have]loved serving you for over 12 years," they say on their website. "Thanks to all of you for your support. We hope you are enjoying our little restaurant as much as we do."
It really is a lovely place to breakfast or lunch. Or brunch. The patio area at the back is a serene haven under the California sun too. Everything about the internal and external aesthetics of Cafe Laurent is meticulously designed and it works perfectly.
Let's get to the food though – the most important part. Everything on the menu looks magnificent and the aromas floating out of the kitchen are intoxicating. It's one of those places where you want to literally sample everything. Or alternatively, just have the staff order for you.
The breakfast dishes are particularly tempting, from the Eggs Benedict (Two poached eggs on a butter croissant with choice of Canadian bacon, fresh spinach, ham, turkey, bacon or avocado. Topped with hollandaise sauce and served with potatoes gratin, fresh tomatoes, small organic greens and avocado with balsamic vinaigrette) to the La Gaufre du Chef waffle (Choice of organic strawberries, bananas, Nutella, dark chocolate chips, lemon-sugar, raspberries or blueberries. Served with seasonal fruits and whipped cream).
But we felt compelled to opt for a crepe at Cafe Laurent – it simply felt appropriate. We went for the Crêpe L'Atlantique – smoked salmon, capers, fresh cilantro, fresh tomatoes, cream cheese and a touch of scallions.
There's a choice of two sides, and we chose the fresh fruit (which was suitable fresh and fruity), and the potatoes gratin. The latter was a small but just right portion of cheesy, seasoned and sliced potatoes, and it was delicious.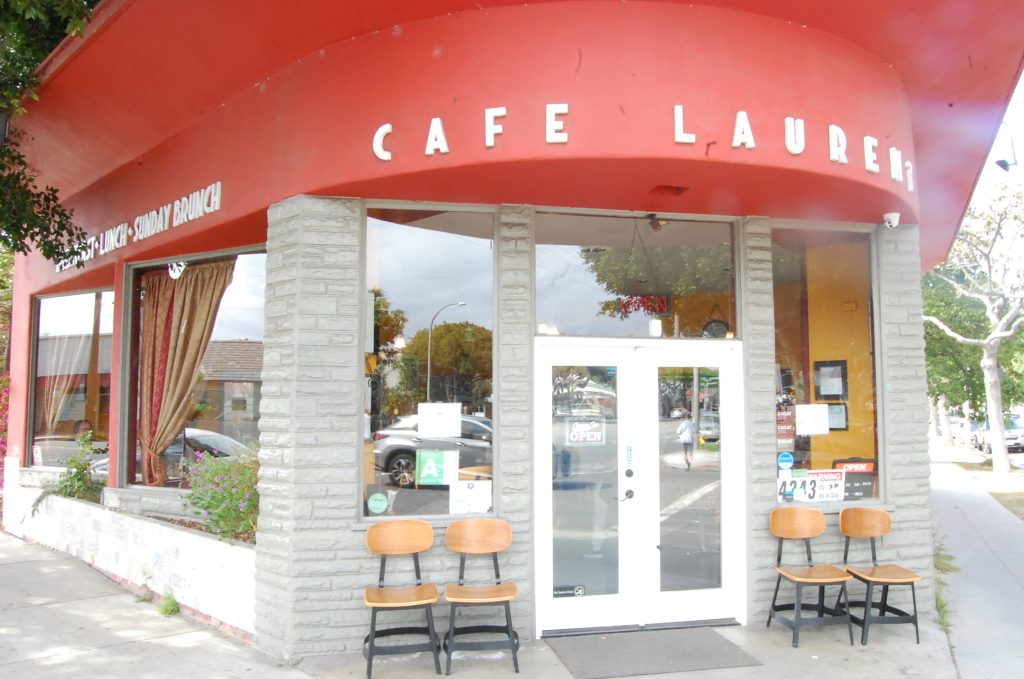 But the crepe was magnificent. A heavy dollop of cream cheese is necessary because the taste is so much milder than the others on offer, and the chefs get that just right. The scallions and cilantro bounce around the roof of your mouth and tongue with reckless abandon, allowing the smoked salmon and tomato to thrive.
It's a balance of flavors and portions that makes for a delicate dance, and the light crepe ties it all together. It's a wondrous meal, but then one suspects that everything at Cafe Laurent is.
Cafe Laurent is located at 4243 Overland Ave., Culver City 90230. Call 310-558-8622 or visit cafelaurent.com.