Sat on Washington Boulevard, Brunello Trattoria is a restaurant that screams Italy the moment you arrive. From the font used on the exterior signage to the stone and wood in the interior, the place feels comfortably authentic.
That's no surprise; according to their website, "Bruno Morra and his wife, Vincenza, emigrated from Naples, Italy, in May 1985. Upon arrival in the United States, Bruno got a job working as a pizza chef."
Brunello Trattoria Italian Restaurant opened in 2007, and all of the family is involved – Vincenza, plus their daughter Valeria and son Daniel. "The food we serve here is the same home cooking I grew up with, but on a larger scale," said Daniel.
That care, love and attention shines through in the food. Everything on the menu sounds amazing, everything we see on every table looks and smells incredible, and the dishes we sampled tasted wonderful.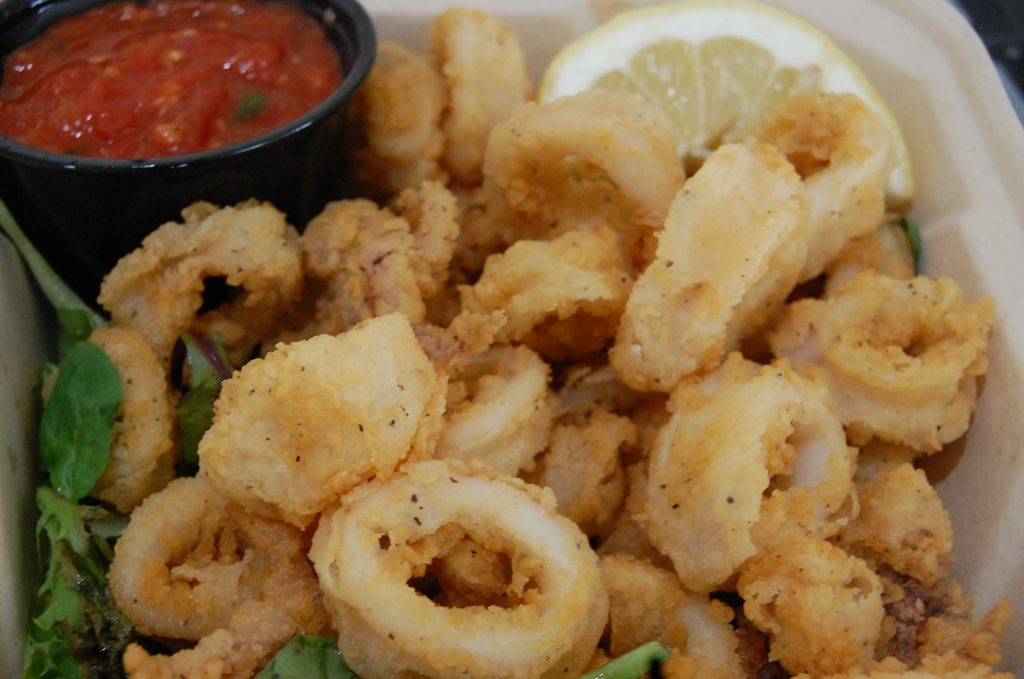 We started with the Calamari Fritti, traditional fried calamari, and while it's a simple dish with few ingredients, it's also an easy one to get wrong. All too often, the batter can be soggy and/or too thick. The white squid meat can be tough and overcooked.
Not here. The dish is light, especially with a splash of fresh lemon. The meat is soft and tender, and the coating is crisp and golden. The marinara sauce on the side makes for a great dip, and the dish is served on a bed of mixed greens. Simply exquisite!
For our lunchtime main course (or Secondi on the menu), we opted for the Salmone – "salmon fillet in a white wine sauce with chopped tomatoes, garlic and basil. Served with asparagus and roasted potatoes."
All of the pizzas and pasta dishes on the menu looked incredibly tempting, literally all of them,
But they also sounded heavy for lunchtime and we had to keep working in the afternoon. So the salmon seemed like the sensible, but no less delicious, option.
Again, everything is cooked expertly with a deft touch. The chef here knows that food doesn;t have to be fried and roasted within an inch of its life – a deft touch is required. So the salmon is flaky and juicy, with the slightest crisp on the outside.
That garlic and tomato sauce pairs beautifully with the meat, and also the vegetables. The thick stems asparagus are not at all soggy or chewy. And the potatoes bind the whole thing together beautifully.
It all came with a circle of incredible bread and, by the end, we were smiling ih satisfaction.
Brunello Trattoria is located at 6001 Washington Blvd., Culver City 90232. Call 310-280-3856 or visit brunellotrattoria.com.