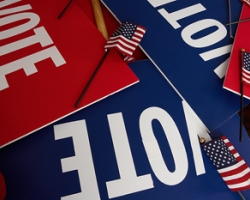 Culver City Unified School District Board President Scott Zeidman announced last week that he will seek reelection.
Zeidman, who has served on the Board of Education for more than three years, says he feels that his job is far from over. "CCUSD is a great district. We've made substantial progress in the past three-plus years. But, while we've made progress, there is still room for improvement and I'd like to help finish what we've started," he said in a statement.
Superintendent Patricia Jaffe was hired on his watch, and the board, he says, has fought to retain counselors, aides and teachers.
Test scores have increased during Zeidman's time on the board, and he credits teachers, staff and administrators. "We have an extraordinary group of teachers, staff and administrators, and due to their collective hard work, our schools are excelling … our students are thriving," according to his statement.
Zeidman spearheaded the passage of Measure EE and is expected to provide the district with an anticipated $6 million of added funding. The district instituted an award-winning anti-bullying task force, a cap on the overall population of the middle and high schools, higher academic requirements for inter-district permit students, and maintained an open and transparent budget process.
In the past three years, three CCUSD schools have earned California State Distinguished Schools Awards (El Marino 2008, La Ballona 2011; Culver City High School 2011); and the district has earned three Title 1 Academic Achievement Awards (La Ballona 2009, 2010, and Linwood E. Howe 2009). Culver Park was named as a California Model Continuation High School (2010) and Culver City Middle School has been recognized annually as a California Department of Education School to Watch.
Among his many endorsers are Culver City Mayor Micheal O'Leary, former mayors and current councilmen Scott Malsin and Andy Weissman, Councilman Jeff Cooper and board of education members Steve Gourley, Kathy Paspalis and Patricia Siever.
The Zeidman campaign is planning a reelection party/meet & greet at the home of Mike Cohen at a date yet to be determined. More information can be found at Zeidman4CCUSD.com.