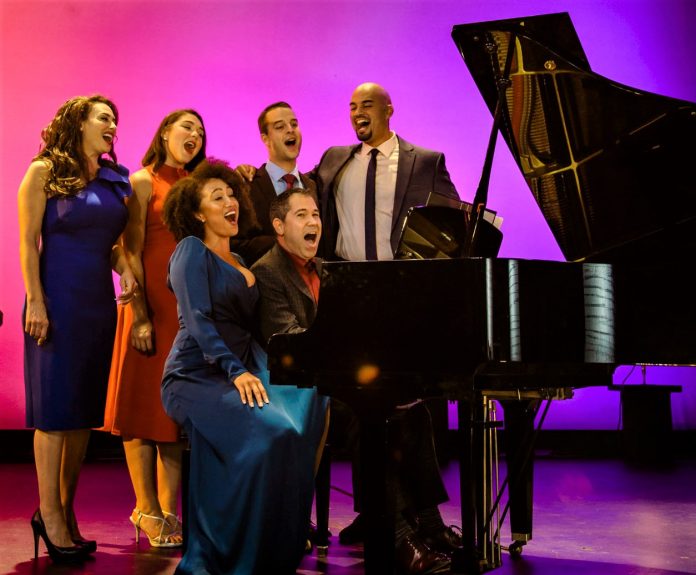 PlayhouseLive Online presents You I Like: A Musical Celebration of Jerry Herman, a virtual musical revue honoring the genius responsible for the Broadway classics Hello, Dolly!; Mame; La Cage aux Folles and many more. The production, conceived and music directed by Andy Einhorn, marks the first theatrical tribute to Jerry Herman by a professional theater company since the passing of the Tony Award-winning Broadway legend one year ago, and features Andy Einhorn on the piano with performances by Broadway entertainers Ashley Blanchet (Frozen), Nicholas Christopher (Hamilton), Lesli Margherita (Matilda The Musical), Andrea Ross (The Sound of Music National Tour) and Ryan Vona (Once). 
Jerry Herman gifted us with some of the most beloved showtunes in the history of musical theater and popular song. He is the recipient of numerous awards including Tony Awards, Grammy Awards, Drama Desk, Variety and the Theatre Hall of Fame Award, and was elected to the Songwriters Hall of Fame. But he was most proud of having written songs that could have lives of their own outside of their shows.
In 'You I Like: A Musical Celebration of Jerry Herman,' Einhorn explores the universal themes that are commonly found in Herman's work: love, family, home, and optimism, through such songs as "Time Heals Everything," "I Am What I Am," "It's Today" and "It Only Takes a Moment." The delightfully entertaining revue highlights Herman's craftsmanship as well as his approach to lyrics and melodies familiar the world over. According to Einhorn, "He left a piece of himself in everything he wrote, and may these treasures bring some joy and comfort to everyone during these uncertain and challenging times."
I attended the opening night livestreamed event on Jan. 10, which contained a special pre-show tribute to Jerry Herman featuring Bernadette Peters, David Hyde Pierce, "You I Like" creator Andy Einhorn and Pasadena Playhouse Producing Artistic Director Danny Feldman. The two Broadway stars' heartfelt reverence for their time spent working with the musical legend shined through the sparkle in their eyes as they shared special moments and memories creating musical magic onstage together. 
The revue consists of 30 songs from many of Herman's musicals, both wildly successful and a few much less so, with an introduction to each by Einhorn which put the song in perspective to its show as well as Herman's own life and creative themes. Many numbers included choreography which added to the humor or pathos being presented. And appropriately, there was a staircase for Dolly to descend during her iconic opening title number! That show holds special meaning for Einhorn who shared memories of the 2017 Broadway revival he music directed which starred both Bette Midler and Bernadette Peters during the run. Oh, how I wish I had been there to see Ms. Midler in her Tony Award-winning role as Dolly!
Don't miss your chance to experience the thoroughly entertaining and family-friendly video-on-demand streaming of "You I Like: A Musical Celebration of Jerry Herman" which will be available to rent on PlayhouseLive for $24.99 through Feb. 7. After the initial purchase through the website, the musical revue can be watched on any of the PlayhouseLive apps including Apple OS, Android OS, Roku, FireTV and more. Closed captioning is available in both English and Spanish.  Additional information about its programming, including new announcements, individual show tickets.