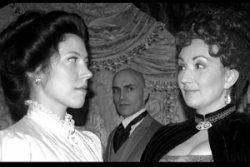 At the end of each year, it's time to look back on the great year of local theater I have been lucky to experience during 2014. Most weeks I see from 2-4 productions ranging from theaters with less than 40 seats to lavish touring productions at the Pan-tages in Hollywood. And those of us who live on the Westside are very fortunate to have three local community theaters at which we can experience great theater.
At these community theater groups, volunteers do all the work and each group offers a wide variety of top rate comedies, dramas, mysteries and musicals at reasonable prices each year – especially for those who are season subscribers. I hope many of you currently support these 501(c)(3) non-profit organiza-tions and that more of you will discover them in 2015.
Kentwood Players at the West-chester Playhouse, located just north of LAX, presented two fantastic musicals during 2014: "Fid-dler on the Roof" and "Into the Woods" as well as the critically-acclaimed drama "Orphans" and comedies "Becky's New Car" and "Sordid Lives" which was attended by its playwright Del Shores and two of the original production's actors. Mystery lov-ers flocked to see Agatha Christie's "The Hollow" and Kentwood Players was voted one of the top three Westside theater compa-nies by the readers of "The Argonaut" newspaper in 2014. The group opens its 65th Anniversary Year with Oscar Wilde's "An Ideal Husband" on Jan. 9, with audi-tions for the Tony Award winning musical "Mame" taking place on Jan. 10 and 11. More information can be found at www.kentwoodplayers.org.
The Morgan-Wixson Theatre in Santa Monica is home to the Santa Monica Theatre Guild and is one of the oldest theatrical organizations in the city, founded in 1946. Besides their variety of top notch main stage produc-tions, which included the musi-cals "The Producers" and "Spring Awakening," the classic drama "Our Town" and comedy "Noises Off" in 2014, the group also has one of the best children's the-atre groups in town. Their Y.E.S. Program is part of the Morgan- Wixson Theatre's commitment to engaging young audiences, training young talent, and supporting literacy. Participants range in age from 8-18. Y.E.S. offers four youth productions each year and one full-length Youth Musical each November/December. The group opens 2015 with "God of Carnage" on Jan. 17. More information can be found at www.morgan-wixson.org.
Theatre Palisades was founded by three writers in 1963 and became a community the-ater group in 1967. In Novem-ber 1988, just in time for the 25th Anniversary of the group, Theatre Palisades opened the new 125-seat theatre, which was named Pierson Playhouse in honor of Lelah and J. Townley Pierson who had not only generously donated the property but also contributed extensively to the Building Fund. During 2014, I thoroughly enjoyed their production of Anglo-Franco Fusion Farce "Don't Dress for Dinner" and Theatre Palisades is starting its 2015 season with "The Diary of Anne Frank" on January 16. Kids can participate with Theatre Palisades Youth, which produces two shows a year. More information can be found at www.theatrepalisades.org.
So make 2015 the year you support our three Westside all-volunteer community theater groups, each dedicated to presenting top quality theatrical productions.