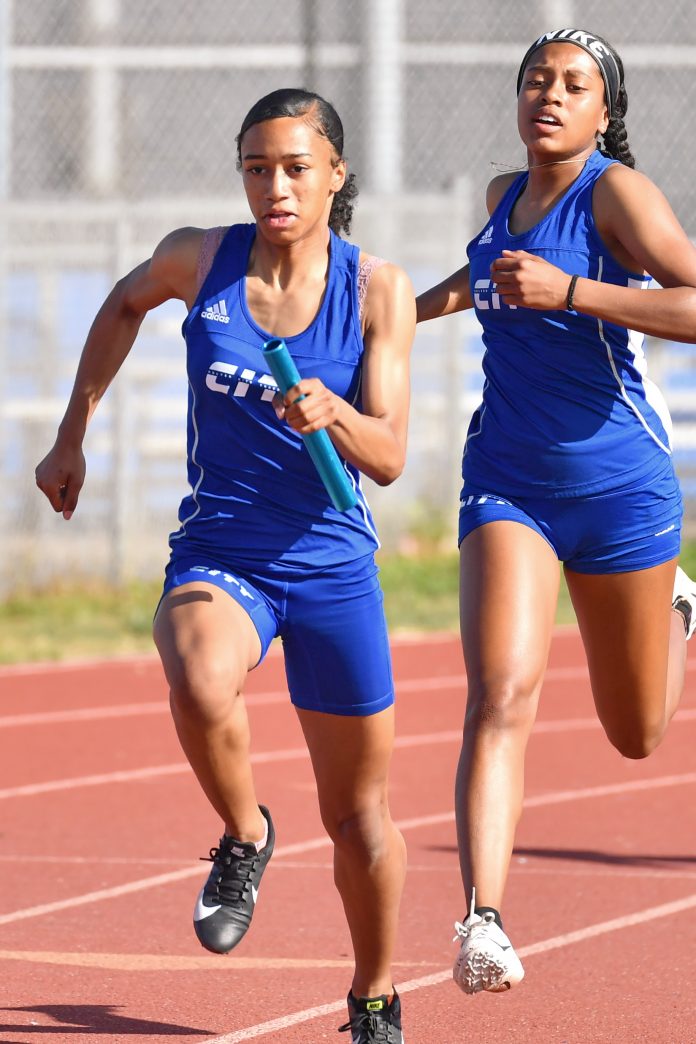 It's beginning to sound like a broken record, but the coronavirus has stopped another Culver City high school spring sport in its tracks. This time it's the track and field teams. .
The four track and field teams along with nine other springs sports saw their seasons end during the first few weeks of March. Baseball, golf, boys and girls lacrosse, softball, swimming, boys tennis and boys volleyball were all knocked out of the box because of COVID-19. The sad part about this particular situation is all 10 teams were expected to have above average seasons, and some of them were expected to have outstanding seasons.
"I was disappointed," Culver City's head track and field coach Jahmal Wright said in a telephone interview this week. "I was really disappointed for our seniors because we had a pretty talented senior class that had really trained hard for the season and for it to be cut short, it really hurts."
What do you tell 140 athletes that their dreams have turned into one big nightmare? "I told them the truth and the facts," Wright said. "At first I did not think the season was going to be cancelled. I thought it was going to be postponed for a month, then we figured out we were not coming back, so the coaches had to break the news to everybody. It was not easy, but under the circumstances, the kids understood."
For the past six years under the direction and Wright and assistant head coach Rayfield M. Beaton, the program had reached new levels of excellence. They dominated the Ocean League and competed well in prestigious invitational meets like Arcadia and the CIF finals.
"We had a lot of talent on the men's and women's side," Wright said.  "We were on pace to do some really special things this year.  It's unfortunate especially for student athletes like Mekhi Evans-Bey."  Evans-Bey was the returning CIF champion in the Division 2 400 meters with a time of 48.1 and he was expected to place high in the 200 meters. "We just knew he was going to make it to the state meet. "
According to Wright, Dialo Drati and Mystic Waring were two other Centaurs who were looking to have a breakout season. "Drati was an up and coming 800 meter runner that was going to make some noise and Waring was one of the top 300 meter hurdler runners in Southern California."
On the girls' side, Wright was counting on Ayahna Bahati and Alexandria Williams to lead the Centaurs to victory.  "Alexandria was going to be one of the top 300 meter hurdler runners in Sothern California and Ayahna was at the top of the list in the 100 meter hurdles."
This was Wright's 20th season coaching track and field at high school alma mater. He is also the head football coach along with being a Physical Education teacher. "It's really not that hard at all," Wright said about coaching two sports.  "What makes it easier is having a coach like Beaton. He does a lot of the heavy lifting in the track off season that allows me to coach football. When I come back to track after the football season coach Beaton has everything under control. He makes it easier for me to coach both sports."  
Beaton, who has coached track and field at Culver City for six years, had a different approach to the Pandemic. "I really did not think a lot about it because I never question God, also I was dealing with eye surgery at the time so that complicated the situation.
"The circumstances of being a coach, you have to expect the unexpected. I had goals for the season but when it was interrupted, I did not question it but I did feel bad for the kids, especially the freshmen and the seniors. The freshmen wanted to come in and prove themselves and the seniors who were on their way out wanted to be at their best one last time."
Beaton continued to say, "The freshmen wanted to have a great start and come in and make an impression and the seniors wanted to have a great finish and leave an impression. The kids in the 10th and 11th grades or going to have another season but the seniors wanted to leave on a high note."
It's so hard to say goodbye, so Beaton and Wright have done their best through emails, zoom meetings and text messages. "For the last two months coach Wright and myself have sent the seniors text messages to congratulate them for being good Culver City student/athletes. Some of the seniors have been with us for four years and they did not get a chance to say good bye."
The bright side is Beaton and Wright are looking forward to next year. "The entire freshmen class was impressive," said Beaton, a former USC All-American track runner "They were very competitive. I was excited about all four teams, (girls frosh/sophomore and varsity and the boys frosh/sophomore and varsity).  We had some very good teams this year and these were some of the best teams we have had since I came to Culver City."
Beaton was excited about how quickly the teams peaked at the beginning of the season. "We were on a roll. We were on the run way getting ready to take off."
Beaton had this to say about the 2020 season. "I want the kids to understand that these things happen in life. This is a teaching lesson. It's not what life takes from you that matters, it's what you do with what you have left."