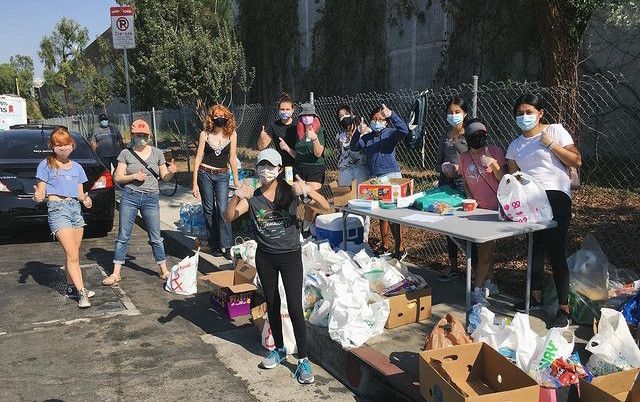 There is one thing that all people have in common with each other: at some point, everyone needs help.
That help can come from many places. Parents, friends, or even the government can step in to uplift those in need.
However, one of the more unexpected sources of help can come from the youngest of us, and that's just what Culver City High School senior Lizbeth Mendez has shown through her non-profit: Venice/Culver Project 4 Unhoused.
Seeing the economic effects of the pandemic spurred something within Mendez, something that she just couldn't ignore.
"It all started in June. My whole plan was to help people who were in need during the pandemic," Mendez told the News. 
"I was feeling devastated about how people were trying to fight for food and trying to pay their bills, so I wanted to help those people in need."
Her original plan was to do a community fridge, which is a fridge placed in a public area as a mutual-aid program to help those who need food.
However, it was too difficult to put together logistically, so Mendez decided to go a different, more traditional route. She put on a food drive instead, and it caught on incredibly quickly as people wanted to make their own mark.
"We collected a lot of donations from people who wanted to help out. We had a successful food drive, so I decided to help those at the intersection of Globe and Venice," Mendez explained.
That drive ended up serving over 100 homeless currently staying at the intersection, and that success stoked a fire under Mendez. She wanted to take this beyond just a simple food drive, and created Venice/Culver Project 4 Unhoused.  
It wasn't too difficult to find those who wanted to join her on this endeavor, as many of the students who had participated in the original drive wanted to join her.
"A lot of the high school students at the first food drive wanted to help out, because they had seen what they did and it opened their eyes. We really want to keep helping the unhoused residents," Mendez recalled
While she did receive some small logistical help from those who knew the ins and outs of starting an organization, the operation itself is entirely youth driven by Mendez and her co-workers.
"I definitely did get help from other students who were a part of this, but it was all youth-led. It was all the youth."
For Mendez, starting the organization wasn't a massive undertaking so much as it was the next step in her growth. She currently holds eight leadership positions, and said that she feels naturally comfortable as a leader.
The organization currently has 12 members, and Mendez says that they have formal positions within the organization.
Venice/Culver Project 4 Unhoused normally holds biweekly Food Drives that are advertised on their Instagram page @ venice.culver.p4u and on their website veniceculvercityp4u.wixsite.com/website, but have put that on pause as the group waits for COVID cases to drop.
In the meantime, Mendez and her team have been putting 'care packages' that can be dropped off for homeless residents.
Once the group is able to get back into the field, organizational skills that the group has picked up from previous food drives will enable them to continue growing.
"We have had an increase in donations," Mendez explained.  "We have gotten food and money, and been recognized by a lot of aid groups, who have always been reaching out and making sure our voices are heard and our work is recognized."
Mendez actually tried to do a clothing drive, but the volume of the donations was so great, she had to cut it off and mainly focus on food drives.
"We receive text messages or emails asking, 'how can we help, I want to be a part of this,' so the impact has been so amazing and positive," Mendez said.
For their food drives, the primary donation that the organization receives are granola bars, but items like fruit and water are also much desired. 
Canned foods were another popular item, but Venice/Culver Project 4 Unhoused no longer accepts such donations because unhoused residents don't generally own can openers.
The group has also expanded in recent months to feature hygiene products, pairing up with other aid organizations around the area to help cover all aspects of living for the unhoused.
"We received over 120 bags [of hygiene products] from one woman we work with in Los Angeles," Mendez remembered.
While the impact she has made in the community has been great, the thing she is most proud of is not the number of donations she has made, but the number of people that she has motivated to understand and play a role in Culver City.
"I am really thankful I was able to inspire other people to help their community, because that's the main goal."