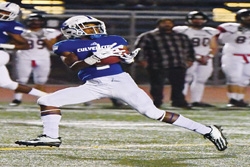 The Culver City high school  Ocean league champion football team was knocked out of the CIF Division 11 football playoffs in the first round by Moreno Valley's Valley View high school 69-43 last Friday night at Culver City. Both teams had their offenses ready to play but it came down to turnovers and that's one of the main reasons the Centaurs loss the game.
They committed two costly interceptions at the end of the second quarter which turned a close game into a 20 point Valley View lead going into halftime.  In the second half Valley View used their size to wear down the smaller Culver City team.
"They were pretty physical up front and we had a hard time matching their physicality," said Culver City head coach  Jahmal Wright after the game at Culver City last Friday.  " We were doing a good job matching them score for score until we threw those two interceptions.  Those plays took some of the steam out of us and we had a hard time recovering after that."
Culver City finished the season with a 7-4 record and they were 4-1 in the Ocean league which tied them for first place with El Segundo and Lawndale. 'The loss to Valley View really hurts but the future looks bright for this team.  I am proud of how we turned the corner as a football program because two years ago we were 2-8," said Wright.