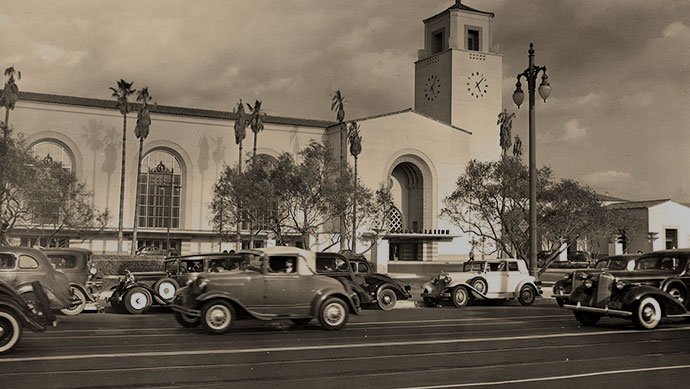 The award-winning, site-specific Chalk Repertory Theatre continues its 13-year tradition of revealing the spaces and stories of Los Angeles in all its beautiful, complex diversity with its new audio play series CHALK LINES, made up of five short plays using immersive audio storytelling to bring to life unsung landmarks in Los Angeles City Council districts 8, 9, and 10, which include the Metro Expo Line, Leimert Park, Historic West Adams, and Exposition Park. 
Chalk Repertory Theatre was founded on principles of equity, diversity, and inclusion, anti-racist practices, and identity-conscious casting. 'Chalk Lines' features underexplored communities, BIPOC and LGBTQ perspectives, and a diverse creative team which includes Chalk Rep founding member and award-winning director Jennifer Chang; Sound Designers Justin Asher and Colin Wambsgans, and Culver City resident Deborah Stein as the production's Dramaturg — a literary editor on the staff of a theater who consults with authors and edits texts. And here is what Deborah shared with me when I asked her about her involvement with 'Chalk Lines.'
"This past winter, I worked closely with each of the playwrights, first collectively on idea-generating and then individually to develop their scripts through the drafting process so the plays would feel more unified than in a traditional anthology. But it was left open to us from where that unity would come. We then met as a group via zoom over an intensive 2-week period to brainstorm first impulses, ideas, and memories of both these districts of Los Angeles and of audio plays we'd heard and experienced, then developed lists of types of people, phrases, sounds, ideas, and images we associate with living in LA. Working together, we developed thematic, sonic, linguistic, and imagistic refrains that repeat and recur across the pieces. My hope is that this makes 'Chalk Lines' feel like living inside a poem about our city so that you'll see – or hear – life around you a little bit differently afterwards, perhaps a bit more intensely or more layered, and perhaps in more vivid color." 
The five short, audio plays in Chalk Lines include:
"March of Time – Time Warp" written by Luis Alfaro which follows an unusually frank tour guide through 150 plus years of Los Angeles history in a morphing district from Union Station to Chinatown to the Coliseum and much more. Features Tonatiuh Elizarraraz (Tourist), Emily Kuroda (Tour Guide) and Giovanni Adams (Chorus).
"From Your Homeworld to Mine" written by Joseph Guy Maldonado begins at the Vermont Expo Metro Station where passengers exiting the train encounter a man preaching the word of alien life. But perhaps he has much more to offer and share about history and humankind. Features Gregg Daniel (Rodney).
 "8 for 16" written by Kimrie Lewis rides the Expo Metro line from Vermont to Crenshaw and back while a seasoned street vendor and a young college student navigate intricate negotiations. Features Emily Stout (Karly) and Veralyn Jones (Diamond).
"Leimert Park Drum Circle, Sunday Afternoon" written by Colette Robert beckons listeners with the beat of a drum down to Leimert Park Plaza on a journey of time, memory, and self-discovery. Features Veralyn Jones (Parent)
"Mutual Life" written by Giovanni Adams is set in 1992 at the former Carl Bean AIDS Care Center in Historic West Adams. A young Latinx orphan living out his last days in hospice receives a mysterious sales visit for life insurance. Features Tonatiuh Elizarraraz (Arturo) and Xan Churchwell (Dee).
In response to COVID-19 safety protocols, audience members are able to safely enjoy Chalk Lines at home focusing solely on the auditory experience, or to visually augment it by visiting each outdoor location and listening to episodes on a mobile device. For those wishing to visit each location, the best route is to start at Union Station then to Natural History Rose Garden, then USC/Vermont Metro Expo Line station to West Adams/Carl Bean House. 
Each of the short stories averages about 12 minutes with a total run time of about 90 minutes if you travel by car and about 60 minutes if you listen at home. Chalk Lines is free to stream through Dec. 2021 with donations encouraged. Streaming information and an experience guide are accessible at https://chalkrep.com.