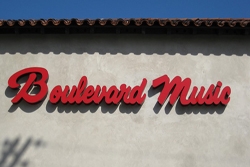 Stringed musicians will be the toast of the town Saturday, Feb. 1, when a trio of top-notched performers takes the stage at Boulevard Music starting at 8 p.m.
Dorian Michael and Kenny Blackwell will be joined by Fred Sokolow in performance.
Tickets are $17.50 and can be purchased through Boulevard Music at 4316 Sepulveda Blvd., Culver City. Call 310-398-2583. The show runs from 8 to 10 p.m.
Michael, a former Culver City resident now residing in San Luis Obispo, "has played in about every style and in every type of work situation a blue-collar musician could hope for," according to Boulevard Music's Gary Mandell.
Blackwell's resume is equally intriguing. "Mandolinist/guitarist Kenny Blackwell studied with Jethro Burns before moving to California where he joined fiddler Richard Green's band in '93. His mandolin and guitar work have been heard in TV and movie scores," according to Boulevard Music's press notice.
Together they make great sounds.
"Some music makes you feel deeply, some music makes you think and some tunes are played just for the sheer fun of it," Michael said. "We like to try to get to all those places in the space of a concert."
Add Fred Sokolow to the combustion and things will definitely take off.
"(Sokolow) is a master of several stringed instruments, and who has recorded countless CDs and written numerous instruction books, from rock to bluegrass to jazz," so the press kit says.
"Feb. 1 show will include my country, blues, rock songs, Dorian's predominately blues numbers and Fred Sokolow's old-time, country and swing tunes," Blackwell, a resident of Morro Bay, says of their upcoming show.
Blackwell started strumming a guitar at age 7 after his mother introduced him to some Carter Family-style songs. He took to "serious" music study at 42.
Michael coincidentally began his early music interest at age 7 and started making money at age 15.
"Even when I told myself to be a doctor or a teacher or something important, I was only kidding myself," Michael said. "I was only going to play guitar."
His influences are diverse, with a blend of classical and blues.
Listen to Michael's music and he will tell you that he's "a jack-of-all-trades roots music guitar player. Blues is the basis of what I play even if I am playing some other genre at the moment. There is still no way of getting around that."
Bach, Muddy Waters, Howlin' Wolf, Ry Cooder, and Stravinsky are Michael's influences.
Blackwell says his "style is a combo of Blues, Country, Swing, and early Rock & Roll." His primary music heroes are Django Reinhardt, Sam Bush, and Levon Helm.
(Note: Fred Sokolow was not available for an interview.)
All three musicians are familiar with Boulevard Music.
"I have played at Boulevard Music several times over the last many years and I enjoy it immensely," Michael said. "Gary Mandell cares about the music, the audience cares about the music and the sound is good. The last time was some years back and it was with the same trio of Fred Sokolow, Kenny Blackwell and I.
The trio returns Saturday and the music should hop. Stay tuned…