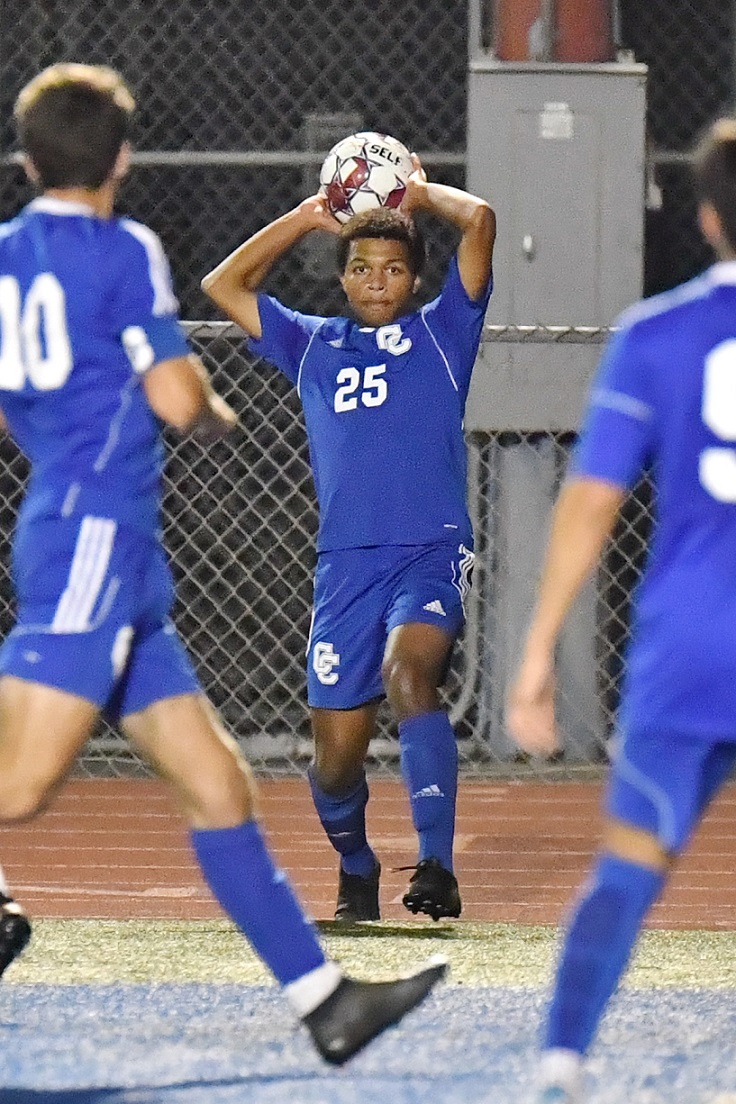 By Coaches Mike Castillo and Edward Dono
Four games into the Ocean League season, the boys' varsity soccer team sits atop the standings — or the table as it is known in world football — with an undefeated 4-game win streak to start the 2020 campaign.
Along the way, the team has cruised to victories over long-time rivals El Segundo, who has won the league the last two years, as well as nearby Santa Monica. The Centaurs won each game by a score of 3-0, and the team is currently first in the table, having scored a total of 14 goals while allowing only one to squeeze past the defense thus far.
As the saying goes in many sports, "Defense Wins Championships".  Only allowing one goal in four games in combination with an offense that is averaging 3.5 goals per match makes this team a tough assignment for any challenger.
There are a lot of games left to play, but the table is set for this varsity squad to win the league and make a run in the CIF playoffs.  Currently, the squad is ranked #3 in the Southern Section for division 4, #29 in the entire Southern Section and #67 overall in the state of California. They already control their destiny with six games remaining.
First-year head coach, Mike Castillo, credits this success to several factors, saying, "First of all, we work hard. We trained during the winter break as much as possible, we played several preseason matches against some tough teams, and just experimented to see what our DNA was as a squad.
"The chemistry is great right now.  It's a supportive group that really wants to win.  We are blessed that no matter the combination of players we have on the pitch at any given time during a game, we are strong in all phases. We have a stout defense, a mid-field that can control possession and an offense that is hungry for goals. We are in a good place right now!"
In fact, according to statistics tracked by a system the soccer program uses called Hudl, the boys' team has created an average possession advantage of 60/40 thus far.
The team has several stands out players that are helping gain that advantage on the field. Among those is senior midfielder Curtis Collazos, who has already committed to play at Cal State San Marcos next year.
Junior Hayden Brown leads all scorers with 15 this season. The defense is anchored by junior Nick Stewart, and sophomore Kenny Lee making it very difficult for other teams to get on the score sheet.
Other key contributors include senior defender Robbie Ridenour, junior mid-fielder Kevin Arenas, senior striker Jake Schultz, sophomore winger Gabriel Mejia, Senior mid-fielder Luka Bryant, sophomore mid-fielder Mattheos Agapitos, sophomore winger Matthew Solis and junior mid-fielder Jake Aigner.
The team currently has 10 seniors on the squad, which means 12 players will be returning next year, giving the program a lot of talent to build on.
The squad's next home game is on January 29 at 6 p.m. when CCHS hosts a feisty Lawndale team.  During half time, 4 local AYSO teams will play a 10-minute scrimmage to create more community awareness and involvement in the high school winning traditions on the soccer field.
This is a great opportunity to support the team, watch some high-level soccer with a meal from the well-stocked snack bar.
"This is an exciting team to watch as our ability to possess and win the ball leads to some great attacking and counter-attacking soccer," coach Edward Dono says.